Total trade deficit over the first seven months of the year surpassed US$15 billion, 2.4 fold increase over the same period last year, reported the Ministry of Industry and Trade.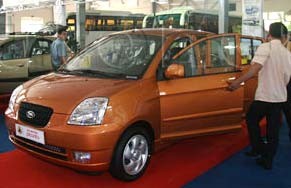 Cars and many other imported items are attributed to alarming trade deficit
Soaring imports of auto spare parts, completed steel, steel ingot, urea, petrol, machinery, equipment, animal and vegetable oil, paper pulp were attributed to the alarming trade deficit.
However, the ministry forecast that in the rest months of the year, the trade balance will be improved thanks to the reduction of import value.
Import priority will be given to essential goods and one of the best measures to control trade deficit is boosting export, according to the ministry.
The ministry also reported an export value of US$6.25 billion in July, bringing a total value in seven months to nearly US$36.9 billion, or 37.7 percent year-on-year increase.
Five export staples recording high growth rate included rice, 87.6 percent, crude oil, 52.2 percent, cashew nuts, 49.8 percent, coal, 45.2 percent and plastic products, 37.9 percent.
Export value in the last five months will continue to rise thanks to high prices of agricultural products, coal and crude oil as well as the high growth rate of garment and footwear products, the ministry said.