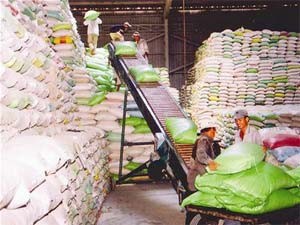 Rice ready for export at a warehouse in the Mekong Delta(Photo: VNA)
The 2008 trade deficit is estimated at US$17 billion, the Ministry of Planning and Investment reported, adding it is within the "safe limit" of $20-21 billion.
Exports were worth $62.9 billion, a year-on-year increase of 29.5 percent and imports $79.92 billion, up 27 percent, it said.
The main items of import were petrol and oil (12.66 million tons, up 0.5 percent from 2007); steel ingot (2.2 million tons, up 4.6 percent); and machinery, equipment, accessories (up 28.4 percent).
The ministry said it would continue to keep a close eye on the trade deficit next year.