Deputy Minister of Industry and Trade, Nguyen Cam Tu has suggested to the Prime Minister some solutions to help stabilize the Vietnamese market from now to the upcoming Lunar New Year.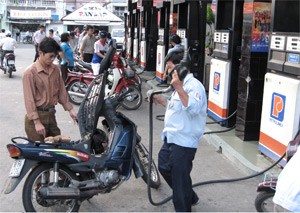 Local fuel prices have climbed up over the year
Accordingly, ministries should create favorable conditions for the import of scrap steel to aid the production of steel ingots domestically. 
 
The ministry has asked the Government's permission to implement policies to promote petroleum marketization and also directly grant subsidies to the makers of coal, electricity, paper and cement to cut down the petroleum price difference, aiming to avoid great shock in the local market.
 
Local prices of fuel and gas have climbed up over the year. Gasoline went up by VND1,700 per liter last week and today petroleum increased by VND21,000-25,000 per barrel due to the world price rising to US$872.5 per ton.  This amounts to a total increase of US$130 per ton over the last month.