Minister of Transport Dinh La Thang and related agencies yesterday met with transport associations and businesses from many provinces and cities, listened to them and found ways to deal with obstacles.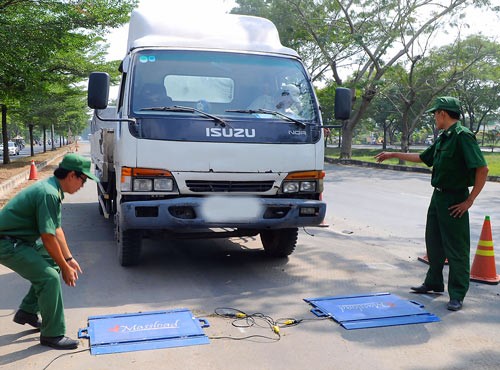 A weigh station in HCMC (Photo: SGGP)
Chairman of Ho Chi Minh City Cargo Transport Association Bui Van Quan said that many seaports especially those who are not under the Ministry of Transport's management had not seriously abided by loading capacity regulations.
 
Their staff controls cargo loading in daytime and ignores it at night and some only supervised trucks travelling out the ports but not those getting in, he added.
 
Besides, there has only one weigh station in Nguyen Van Linh Boulevard which works on the direction starting from the ports.
Mr. Quan proposed to set up another weigh station in Nguyen Van Linh Boulevard.
In addition, there should have two other stations in Hanoi Highway and 25B Interprovincial Road, where container trucks from many provinces such as Dong Nai, Binh Duong and Dak Lak frequently transport goods into HCMC seaports.
Minister Dinh La Thang has instructed relevant agencies to keep so close eye on container trucks that  they comply with loading capacity regulations in both day and night time and in port in and out directions.
The regulations requiring three-year experience to bed bus drivers is unreasonable because the matter is that drivers' ability does not depend on their driving time, according to a bus operator from the northern province of Dien Bien.
The company suggested the ministry to improve driver training and testing quality instead of focusing on the driving time.
Agreeing that the importance is drivers' ability, Mr. Thang said that he would reconsider this regulation.
Some coach operators said that they must register their routes with authorized agencies although there have a route plan.
Mr. Thang replied that the companies would no longer have to do the registration and relevant agencies must take the initiative in inspection to ensure that transport firms are operating on the right routes as per the plan.
He instructed authorized agencies to grant badges to buses right at stations in holidays after businesses said they wasted a lot of time in asking for badges from the agencies in peak time.
Vietnam International Container Terminals lamented that they must pay road maintenance fee for about 40 container trucks that have been operating within the port's area and not running on roads (built with the state budget).
Minister Dinh La Thang said that was wrong and the Ministry of Transport would talk to the Ministry of Finance on this issue.
Responding to complaints from some ports' management boards who reported that they have been charged two kinds of fee from the domestic seaport management board and the marine port management board, Mr. Thang affirmed that they would have to pay one of them.
The Ministry of Transport will exchange in writing with other ministries and agencies on issues related to them to unblock obstacles for businesses, the minister promised.