Standard Chartered Bank economists were surprised by Vietnam's tame inflation this year, with month-on-month inflation having stayed 'benign' at 0.1-0.3 percent over the past three months, the lender said in its H1 report.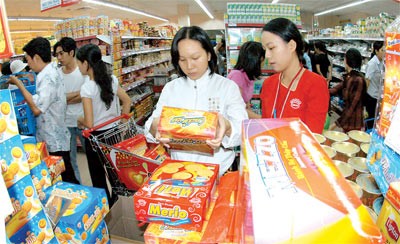 Shoppers at a Co.opMart supermarket in Ho Chi Minh City. The UK's Standard Chartered Bank said a slight fall in the prices of foods, property and transport has helped Vietnam reduce its inflation rate (Photo: SGGP)
The report released July 5 pointed out that Vietnam's growth "has been on track with our expectations, with 6.2%-6.4% growth Q2-2010 estimated by the Government, after reaching 5.8% in Q1-2010."
The economists said the slight fall in the prices of foods, property and transport, which account for 60 percent of the consumer price index, helped reduce the inflation rate.
After seeing lower inflation rates in recent months, the UK-based bank has revised its inflation forecast for Vietnam from 11.5 percent to 9.5 percent this year.
However, the bank said it remains watchful for signs of what it says are the two main sources of inflation.
The first is domestic inflation, because strong retail sales and industrial production could fuel inflationary pressure in the months ahead; and the second is commodity prices, given that the current stability can disappear if risk appetite returns, driving the US dollar lower and commodity prices higher.