Efforts to cut down the population density in downtown have seen authorities in Ho Chi Minh City plan to relocate universities and colleges to the suburbs, paving way for developing satellite cities.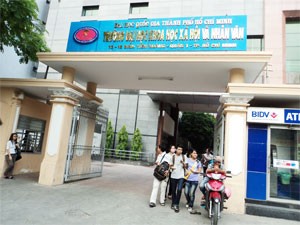 Students at the University Of Social Sciences & Human Civilization in HCMC. The city authorities said relocating universities and colleges to outskirts is one of the solutions for traffic jam (Photo:Minh Tri)
Despite the relocating plan approved by the Prime Minister four years ago, just a few universities have set up branches in the suburbs, and none of them has completely moved to the outskirts.
Most universities in the city, meanwhile, are small, compared with the number of their students. With a huge amount of students, the University of Economics Ho Chi Minh City has to rent more facilities in various districts. The school even has to rent a coffee shop in Tan Phu District. 
Relocating universities and colleges to outskirts is one of the solutions for traffic jam in HCMC, chairman Le Hoang Quan of the HCMC People's Committee said at a meeting with some local universities.
Experts said, along with students, an amount of employees working at universities and colleges will also move to work at the suburbs.
They noticed that the education development at outskirts will be an important stepping stone to speed up the growth rate of satellite cities.
Some universities and colleges including Ton Duc Thang, Van Hien and Kindergarten Teachers College have started building new facilities in outlying districts, preparing for the relocation.
HCMC authorities said they have allocated some areas of the city's land fund in the suburbs for the relocation of universities and colleges. They are located mainly at District 7, 9 and the northwest of the city, including Hoc Mon and Cu Chi Districts.
According to the relocation plan, the city authorities will pick builders and submit for the Prime Minister's approval. The builder will be in charge of technical infrastructure, which comprises of relocation compensations and infrastructure construction.
Universities and colleges will pay the cost of infrastructure investments with a fixed interest rate to the builder after the construction finishes.
The city authorities will offer universities and colleges loans with preferential interest rates, which will be up to VND300 billion (US$15 million) for each school.
"We need to design a very detail plan for the relocation," said urban expert Nguyen Minh Hoa.
"Traffic of the relocation area will have to connect directly with the downtown areas. Constructions of hospitals, markets and entertainment centers at the area are also required.
"Otherwise, students and lecturers will have to travel back to the city every day, making traffic getting worse."
Hoa also recommended after relocating universities and colleges to the suburbs, the areas in the city should be allocated for high-quality human resource training and playground for children.