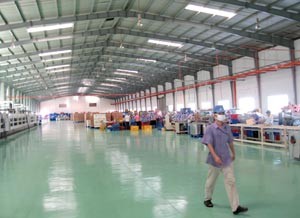 A biscuit processing plant in Dong Nai. (Photo: T.C)
Since the beginning of the year, Dong Nai has licensed 30 new foreign direct investment (FDI) projects, accounting for the registered capital of US$ 108 million. The province also allowed 33 existing FDI project to expand its capital with an additional US$ 161 million.
Therefore, the total FDI poured into Dong Nai has reached US$ 270 million in the first 5 months.
In order to maintain the current FDI growth rate, Dong Nai planned to invest US$ 204 million to improve the infrastructure of 19 industrial zones. This development plans has been approved by the government.
Up to now, Dong Nai has had 736 FDI projects from 32 countries and territories still operational with the registered capital of US$ 8.4 billion, ranking third nationwide, behind Ho Chi Minh City and Ha Noi. 520 of these projects have come into operation accounting for US$ 6.1 billion and 260,000 employees.
The majority of Dong Nai's FDI projects (96%) focus on industrial-related fields. The rest are in services, agriculture and forestry.