US bank Goldman Sachs has released a report on the Vietnamese economy, forecasting GDP growth to top 5.1 percent in 2009 and rise to 8.2 percent next year.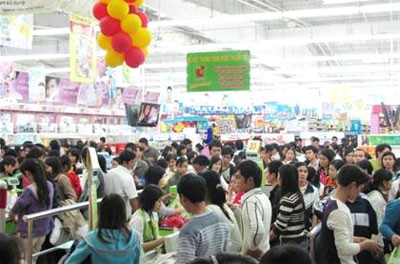 This undated file photo shows customers shop at a Big C supermarket in Hanoi
The report attributed the country's economic turnaround since the second quarter to rising domestic demand.
 
Thanks to the stimulus program and loose monetary policy, the economy has warded off the negative impacts of the global financial crisis rather well, it said.
 
Though the current fiscal policy would continue in 2010, the budget deficit would not rise sharply as a ratio of GDP, it said.
 
The bank predicted policymakers would continue with the gradual devaluation of the dong against the US dollar unless the balance of payments situation becomes highly adverse.
 
It also pointed out some of the challenges the economy has to face now, including inflation, which is trending upward, and the balance of payments situation, which faces a deficit.
 
But it believed that the Government would be able to keep the deficit under control.