Many US companies have expressed their confidence in Vietnam's economic development and wish to do business in the country, US Ambassador to Vietnam Michael Michalak has said.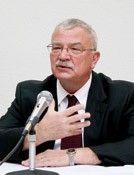 US Ambassador to Vietnam Michael Michalak (Photo: Thanh Nien)
Talking with the international and local media in Ha Noi yesterday, he said some US companies that are reconsidering their decision to invest in Vietnam are doing so because they are facing difficulties due to the global economic recession.
The ambassador was very positive about bilateral relationship with Vietnam and the United States. 

Vietnam can be confident that the issues on which we work together will continue as priorities for the United States.

We continue to share many common goals and values and we undertake to work for the success of the bilateral relationship, he said.

The ambassador also reviewed the recent US presidential election, saying the fact that Barack Obama has become the 44th President of the United States is a groundbreaking and historic event for many reasons, including the election of the first African-American to serve in the highest position of the US government.