The foreign direct investment (FDI) in Viet Nam has been on an impressive growth, amounting to US$2.2 billion in the first four months of this year, of which, Ho Chi Minh City (HCMC) is taking the lead, accounting for 33 percent. The FDI in Viet Nam is forecast to keep on strong growth, particularly in high technology industries, reported the Ministry of Planning and Investment (MPI).

HCMC: Returning Leader
So far, the biggest event of the FDI in HCMC as well as in the country is Intel Corporation's project, totally capitalized at US$605 million. The figure includes US$300 million of the first phase, used for plant construction, which is planned to put into operation in late 2008.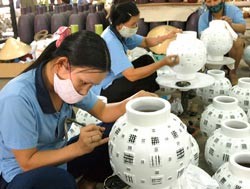 Natural Environment Viet Nam Co., Ltd., 100% capital owned by Australia, produces potteries for export in HCMC.
Intel Corporation's investment in HCMC has become a magnet for high-tech investors. Even Intel forecasts wave of investors coming here as parts suppliers for the Intel.
Apart from Intel, Simdesk's technology research projects and Hewlett Packard's business activities have also drawn suppliers to invest in Viet Nam.
Eighty new FDI projects have registered in HCMC, totally capitalized at US$670 million, in the past four months, said Director of the HCMC Department of Planning and Investment Thai Van Re. This figure reflects an increase of nine projects and a 6.3 times increase from the same period last year.
After many years, HCMC regains it lead in FDI attraction. In the four-month period, with 28 projects being licensed to expand their investment capital by 49.5 million USD and three others to reduce their investment capital by 43.9 million USD, the city posted a total foreign investment of US$719 million as compared to US$139.7 million of the same period last year.
The city has to date had a total of 1,980 foreign-invested projects, capitalized at 12.9 billion USD.
It also boasted a project to build a polyclinic in Phnom Penh, Cambodia, with a total investment 10.5 million USD, to which the Vietnamese partner contributes 7.3 million USD.
Viet Nam licensed 23 FDI projects worth US$288 million in April, raising the total projects of the past four months to 200 with a combined registered capital of nearly USD2.2 billion, representing increases of 12 percent and 32 percent, respectively, year-on-year.
Besides the Intel Corporation's project in HCMC, there is THT's project (Republic of Korea) worth US$314 million invested in Ha Noi. and Winvest Investment project (the US), capitalized at US$300 million, in Ba Ria-Vung Tau province.
Ha Noi, Ba Ria-Vung Tau, and Binh Duong provinces are enjoying rather high growth in the number of FDI projects.

Administrative management reforms needed to attract FDI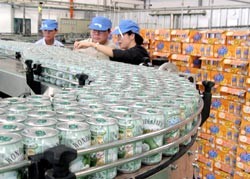 Wonderfarm canned beverage production line at a factory of Interfood company in Dong Nai province. The company has 100% capital owned by Malaysia. (Photo: T.C.)
Mr. Thai Van Re said HCMC's achievements result from the fact that leaders of the Party Committee and the People's Committee of HCMC took drastic and centralized steering measures from last year.
A number of solutions to administrative management were adopted, aiming to create an open investment environment. All related departments were compelled to renew their working style, follow and assist investors from the first time they planned to explore the situation in Viet Nam.
The program on administrative reform has been enhanced as this year is the year of administrative reform of HCMC.
While HCMC is implementing lots of measures to attract FDI, other localities also study and issue the best policies on FDI attraction.
The visit of Microsoft Corporation Chairman Bill Gates to Viet Nam last week had great influence on domestic and foreign businesses circles. After the Intel event, Bill Gate's speeches appreciating abilities and potentials of Viet Nam's information technology development promise a new investment wave in high-tech industry in Viet Nam, especially in testing and assembling factories.
The Government needs to enhance measures to anticipate high-tech investment tendency such as training and improving human resources, developing internet infrastructure, opening legal environment relating to technology development and investment.