Viet Nam attracted US$2.7 billion in foreign direct investment (FDI) in the first quarter of this year, a year-on-year increase of 23 percent, reported the Ministry of Planning and Investment (MPI).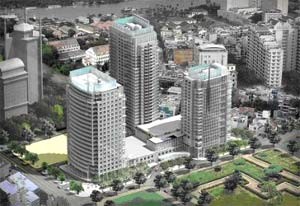 An artist's impression of the Kumho Asiana Plaza which is under construction in Ho Chi Minh City's Distict 1 by South Korea's Kumho Asiana Group
In March alone, the country licensed 71 FDI projects with a combined registered capital of US$455 million, bringing the total number of newly licensed projects in the first quarter to 196 with a registered capital of US$2.1 billion, a year-on-year increase of 91 percent and 27 percent respectively.
Some 47 projects already underway were also permitted to add US$136 million to their investment capital in March, bringing the number of projects with increased capital to 109 with registered capital of US$432 million.
Among 30 countries investing in Viet Nam this year, the Republic of Korea emerged as the largest investor with a total registered capital of US $486 million, followed by Singapore with US $476 million.
According to the Foreign Investment Agency under the MPI, FDI increased considerably in the first three months and is expected to reach over US$20 billion this year.
Among the biggest corporate investors are Japan's Sumitomo Group, which will invest about US$3.5-4 billion in the Van Phong Economic Zone in the coastal southern province of Khanh Hoa to build a thermo electric plant and two international port terminals;  Britain's Pacific Land Ltd., which is planning to pour US$1 billion into the Nam Thang Long biological zone in Ha Noi; and Taiwan's Foxconn, which is expected to invest US$5 billion in two technology cities to produce high-end electronic products in the northern provinces of Bac Ninh and Bac Giang.