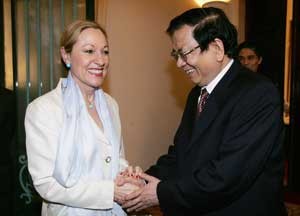 Foreign Minister Nguyen Duy Nien shakes hands with Ms Benita Ferrero-Waldner (AFP Photo)
The EU is making every effort to strengthen its relation with Viet Nam on trade and investment, said Ms. Benita Ferrero-Waldner, European Commissioner for External Relations, on her official visit to Viet Nam from April 21-24, 2006.
In a meeting with Ms Benita Ferrero-Waldner on April 21, Prime Minister Phan Van Khai said Viet Nam is concentrating on building its market economy and a state governed by laws.
Mr. Khai also hoped for the development of the Viet Nam- EU relations to be continued, saying that the Vietnamese government pledge to implement the comprehensive scheme for Viet Nam – EU relations for the best interests of both sides.
Regarding the EU's anti-dumping tariff on leather shoes from Viet Nam, Ms Benita Ferrero-Waldner said the EU's investigation is continuing in accordance with the WTO's rules, aiming at not limiting the import of Viet Nam's footwear but promoting fair competition.
The final tax rates will be announced in October and the EU will try its best to reduce its negative impacts, said the European Commissioner.