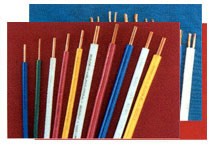 CADIVI's domestic wires.
The Viet Nam Electric Wire and Cable Corporation CADIVI recently signed a contract worth US$10 million to export its products to Canada and the US in three years from 2006 to 2009.
Currently, the CADIVI produces over 200 items including domestic electric wires, high and medium voltage cables to supply the international market as well as domestic consumption.
Beside Canada and the US, the corporation also exports its products to Cambodia, Laos and Myanmar.
In 2006, the corporation's electric cable export turnover is expected to reach US$4 million.
Related Links: