There was an inflow of foreign indirect investment (FII) into Viet Nam in the early 90's after Viet Nam opened its doors and enacted its first Corporation Law and Foreign Investment Law. However, the FII investors withdrew from Viet Nam because of the Asian financial crisis in the late 90's. Recently, a new FII wave has flowed back into the country but the figure is small. With a developing economy, Viet Nam still needs more foreign funds. How does the country attract FII?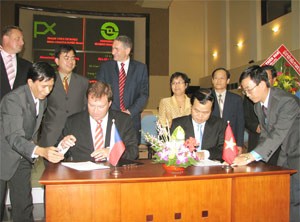 Viet Nam always welcomes foreign investment as the country needs still more for its economic development (Photo: T.C.)
Korea Investment Trust Management Company (KITMC) has opened its first representative office in Ho Chi Minh City, marking a new development between the securities markets of Viet Nam and South Korea.
 
Along with two other new investment funds in the last six months, the presence of KITMC shows promising signs of more FII to come.
 
KITMC is a typical property management company, one that is targeting to become a leading company in Asia.
 
KITMC established the first two investment funds, worth US$100 million, in Viet Nam in March and June.
The head of the company says KITMC believes in the unlimited development capability and economic potential of Viet Nam.
 
In order to maintain the current economic growth rate over the next five years, Viet Nam should appeal for about US$140 billion. Besides local funds, Viet Nam has to increase the inflow of foreign money in both FDI (foreign direct investment) and FII.
 
During the last decade, FDI was always a light in the panorama of Viet Nam's macro economy. In a clearer legal framework, the total registered FDI funds amounted to US$55.1 billion in the third quarter of this year.
 
However, Viet Nam also needs to care for a new inflow of funds in the form of FII to develop its economy.
 
The new FII fund will not only help develop the country's economy but more importantly it will help improve the financial system, make the financial market develop in terms of scale and quality.
 
So far, there have been about 20 operational FII funds, but their scale is small as their combined capital amounts to just US$2 billion.
 
The 20 funds invest in many fields including risk investment and securities.
 
However, with an FII capital accounting for 3.3 percent of the total capital mobilized in the same period, the figure is very small compared to Viet Nam's potential.
 
Nguyen Doan Hung, vice chairman of the State Securities Commission (SSC), says Viet Nam is continuing to improve its legal framework to attract FII funds.
 
In September 2005, the SSC raised the ownership cap on foreigners buying into listed companies from 30 percent to 49 percent.
 
Foreign securities companies can cooperate, set up joint ventures, and buy shares with Vietnamese partners now.
 
In the near future, along with drafting guidelines for the Securities Law, the SSC will complete a mechanism for attracting FII, one that will comply with Viet Nam's integration schedule as well as its commitments to the World Trade Organization.
 
These endeavors are sure to support the activities of foreign investors.
 
Open policies that the Vietnamese government has been considering will facilitate the investment environment for foreign partners and also help Viet Nam reach its socioeconomic development target.
 
Creating a favorable foreign investment environment is expected to continue to improve and guarantee the commercial rights of foreign-invested enterprises appropriate to Viet Nam's commitments to open up in the implementation of the Viet Nam-U.S. trade agreement and Viet Nam's WTO membership.
 
The securities market has many opportunities to develop. This is a good condition for appealing strongly to the inflow of FII into important listed companies.