Japanese experts declare Viet Nam a very attractive destination with their proof in the recent investment expansion as well as new project installation by major Japanese investors in Viet Nam.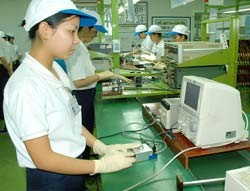 Electronic components are tested at Nidec Tosok, a 100% Japanese invested company in Ho Chi Minh City.
In late 2005, the Vietnamese Ministry of Planning and Investment granted licenses for a series of big investment projects by prominent Japanese firms, such as Yamaha Motor Co and Mabuchi Motor Co, respectively investing US$48 million and US$40 million.
Recently, the General Director of Nidec Tosok Viet Nam, Kunihiko Nishihara, announced his plan to raise the investment capital for the Ho Chi Minh City Hi-tech Park from US$100 million to US$1 billion in the next five years.
Canon Inc. is also expanding its investment in the north by constructing a new, US$70 million, printer manufacturing site.
Not only are the large corporations showing interest; Viet Nam has also witnessed a significant investment wave from small and medium-scale Japanese enterprises.
According to many experts, the fact that Mabuchi Motor is launching a small-scale motorbike plant in Da Nang is a strong sign of the trend to choose alternatives to China.
Mr. Mikio Takeuchi, an economist at the Japan Center for International Finance (JCIF), points out that Japanese investors regard Viet Nam as the most promising country in their "China plus one" strategy, heralding a new flow of direct Japanese investment into the country in the future.
Mr. Takeuchi said a survey, conducted by Nikkei Shimbun newspaper in mid-2005 among Japanese corporations operating in China, showed that of all nations aside from China that are considered by Japanese investors, Viet Nam is regarded as the most favorable.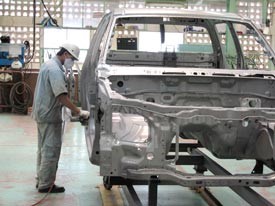 Cars are assembled at a factory jointly invested by the Japanese giant Isuzu and the Sai Gon Mechanical Engineering Company. (Photo:T.C)
The JCIF economist added that 40% of the 72 companies surveyed said they had already diversified their production locations outside of China or were planning to do so.
According to Mr. Takeuchi, Viet Nam's most attractive assets for Japanese investors are its stable and secure environment, cheap labour, and cheap production costs. However, some Japanese investors remain concerned over the country's shortage of high-quality labor and the lack of intermediate management staff, as well as its poor infrastructure and supporting industry systems.
As shown in the Japanese experts' analyses, Viet Nam's possible entry into the WTO in early November this year would oblige the country to open its markets wider to foreign competition and make its trade and investment regulations fully compatible with international norms. This advancement is expected to further fuel foreign investment in the country; specifically the Japanese.
Also in November, Viet Nam will host this year's summit of leaders from 21 APEC member economies, further highlighting its heightened profile in the regional economic arena, and thus welcoming a new wave of investment from Japan.
By the end of August, Japan had 677 valid investment projects in Viet Nam with a total registered capital of 6.8 billion USD. Though only the third largest foreign investor in Viet Nam, after Singapore and Taiwan, Japan is taking the lead in terms of capital disbursement, with nearly 4.7 billion USD implemented.

A major share of Japanese investment in Viet Nam is in industry, which contains 85 percent of the total registered capital. The remainder is in agriculture, forestry, fisheries and services.