Viet Nam is ready to cooperate with Japan to ensure the safety of information in cyber space. At the same time, it is expected that Japan will prioritise official development assistance (ODA) spending for its information safety projects.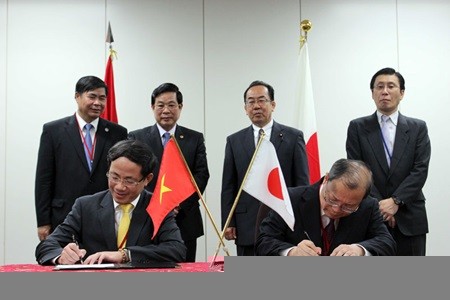 Minister Nguyen Bac Son (second from left) witnesses a memorandum of understanding signing ceremony between the Vietnam Posts and Telecommunications Group and Japan Post Co in Tokyo on his official visit to Japan. (Photo: VNA/VNS)
The statement was made by Viet Nam's Minister of Information and Communications Nguyen Bac Son following his meeting with Japan's Internal Affairs and Communications Minister Sanae Takaichi on Tuesday.
As the Vietnam News Agency reported, Minister Son affirmed the importance of his official visit to Japan to implement high-level agreements, as well as contribute to strengthening and expanding the friendly relationship and comprehensive strategic partnership between the two countries.
He suggested the two sides particularly boost cooperation on posts, telecom, frequency bands and broadcasting.
Minister Takaichi expressed his impressions on the development of Viet Nam in ICT industry, and said that Viet Nam had an important role in the sector in ASEAN. He further said that the Ministry of Internal Affairs and Communications would continue providing training courses and cooperate with the Ministry of Foreign Affairs and the Japan International Cooperation Agency (JICA) to support information safety projects for Viet Nam.
Also, the ministers agreed to hold frequent talks to share information and management experience, as well as to enhance investment and business cooperation between enterprises working in the fields of posts, telecom and IT of the two nations.
After the meeting, Minister Son and Minister Takaichi witnessed a memorandum of understanding signing ceremony between the Viet Nam Posts and Telecommunications Group and Japan Post Co, the mail delivery unit of state-owned Japan Post Holdings Co. The Japanese company will help Viet Nam improve its postal services by creating new services and businesses in Viet Nam.
Yesterday, Minister Son chaired the Viet Nam-Japan ICT Investment Promotion Forum. At the event, he said he appreciated the cooperation of ICT enterprises of the two countries in deepening strategic relationships and contributing to the development of the two nations. He said that Japan was Viet Nam's leading economic partner, the largest ODA provider and No 1 investor in the country.
Also at the meeting, Minister Son visited Japan's leading technology corporations, such as NTT, Fujitsu, Hitachi and Daichi Life Insurance Company.
At NTT Corporation's headquarter in Tokyo, he attended the signing of a memorandum of understanding between VNPT and its subsidiary Nippon Telegraph and Telephone East Corporation (NTT East). The two groups are to cooperate on providing value-added services, network infrastructure and ICT services for Vietnamese customers.