Lots of Vietnamese labor export companies have missed business opportunities because there are not enough laborers who can speak foreign languages and have technical skill.
 
Demand more than supply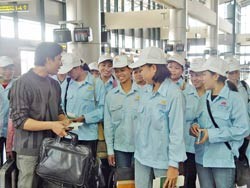 Laborers are going to Japan to work under the management of Suleco Co.
At a session of the National Assembly Standing Committee on October 7, 2005, it is reported that Viet Nam's enterprises which have specialized in sending workers to foreign countries are not in orderly business. Agencies have also failed to fully tap the potential of labor export. For the period of 2001 – 2005, the country sent only 298,820 workers abroad as compared to the original target of one million workers.  
Labor export companies are operating in a less than professional manner. Of the total 142 manpower exporters, there are only 18 of large scale. The rest can export only 200 workers a year.  
Meanwhile, foreign labor markets have opened wider, allowing Viet Nam to surpass its targeted number of overseas laborers. The British, Canadian, American, Australian, and Greek markets are the new ones for Vietnamese laborers, offering better working conditions, stable jobs and high income. However, the number of Vietnamese laborers sent to these countries, mainly by private companies, remains very small. 
Until now, most exported workers go to low income-per-capita markets and are engaged in heavy and unskilled work in unsafe working environments with low incomes.  
Since the beginning of this year, several Malaysian employers have contacted Vietnamese labor export companies or even come to Viet Nam to offer labor export contracts. However, many companies refused such offers because they were afraid that it would be difficult to recruit workers. Only capable companies accepted big and favorable deals.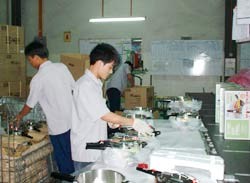 Vietnamese workers in Malaysia

Director of the Ho Chi Minh City-based Petro Tourism Service's Oil Service Center (OSC) said they have contracts to send hundreds of Vietnamese workers to Australia to work as bakers and to the USA to work on oil-rigs but they could not recruit workers. 
 
Developed countries still have a demand for foreign labor. However, they target professional skilled workers, knowing about trade, biotechnology, IT, Nano-techonology, electronics, environmental industry professionals, doctors, etc. The difficulty in recruitment is that candidates do not meet required skills, such as professional expertise and proficiency in the relevant foreign languages. 
 
Mr. Le Van Ha, manager of the Labor Export, Trading and Service Company (Sovilaco)'s Expert-Engineer Exporting Department, said "Many graduate engineers don't meet the employers' requirements in understanding technical drawings and doing technical tests. Our university graduates also have poor language skills."
 
Therefore, chances for Vietnamese laborers to work abroad in good working conditions and with high salaries are slipping away though Vietnamese workers are valued diligent and hard-working. 
 

Skilled export laborers are scarce
 
The reality shows that after signing contracts to export laborers, those companies begin to seek labor source or organize to train and educate laborers cursorily. They recruit any one to meet the required number. Therefore, many laborers are not equipped with professional skills, basic knowledge of culture, customs and law of the host countries.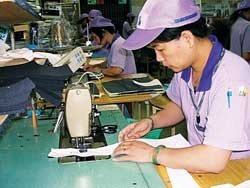 Vietnamese workers in Taiwan.
In the trend of competing to expand export markets, many countries, having labor export tradition such as the Philippines, have invested in establishing thousands of centers to train and educate laborers before sending them abroad. The Philippines export over 1 million laborers every year. But Viet Nam still can't make it exceed 100,000 laborers per year though it has tried its best. 
Labor export activities in the last years show many shortcomings and a lack of visionary management. In order to integrate into the international labor market, Viet Nam has to have a strategy for preparing technical skilled labor sources for exports. However, many enterprises are worried when they mention about preparing laborers for various markets.  
Training export laborers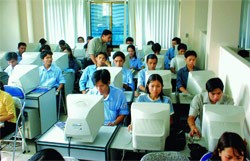 Laborers are trained before going to work abroad at Sovilaco's vacational school.
According to the current regulations, labor export companies are allowed to organize vocational training for laborers only after they sign the contract and are appraised by Department for Overseas Labor Administration and Management.  
However, at present, Sovilaco's International Human Resource School is heading in training, educating and orientating export laborers. This school has trained and also supplied qualified laborers to other labor export companies.  
OSC center will operate the first vocational school for export laborers in Hai Duong province in 2006, after which another will be built in Ba Ria – Vung Tau province.  
The director of the Overseas Manpower Service company (Suleco) and Vice Chairman of Labour Export Association, Tran Quoc Ninh, said in order to improve the quality and scale of labor export, labor export companies have to invest in preparation of labor source methodically. Otherwise, Viet Nam will hardly compete with other countries in the region in labor export.  
During a working visit to labor export companies on December 25, 2005 Deputy Prime Minister, Pham Gia Khiem, emphasized that labor export is put priority. It is considered as a strategy to bring jobs and income to laborers when Viet Nam is still poor.  
However, labor export is not only a matter for the economy but also politics, foreign affairs and the country's security, etc. With labor export activities, Vietnamese people's image will be introduced to the world.  
Therefore, he said, organizations of labor, invalids and social affairs, labor export companies should not put quantity and profit ahead of quality.  
To resolve this problem, the MoLISA will pay due attention to improving the quality of training courses. Companies without training centers will not be allowed to send workers abroad.  
The ministry plans to increase the rate of trained workers for export to 75 percent by 2010 and 100 percent by 2015, with a total investment of VND930 billion. Apart from planning the development of the vocational training network, the State will invest in building ten key vocational training schools in various regions to prepare labor resources for export.