Viet Nam was striving to perfect the market economy and committed to creating the most favourable conditions for foreign investors, Prime Minister Nguyen Tan Dung said at the Viet Nam Global Investment Forum yesterday.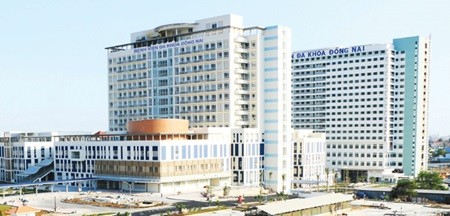 Newly inaugurated Dong Nai General Hospital is the country's first public private partnership (PPP) model, covering an area of 70,000 sq.m with total investment capital of more than VND3.3 trillion (US$156 million). The list of projects calling for PPP investments was being updated and would soon be published. (Photo: VNA/VNS)
With improvements in the business climate, infrastructure and the financial markets, Viet Nam has become a land of opportunities for foreign investors, Dung said.
Viet Nam was on track to reach gross domestic product (GDP) growth of above 6.5 per cent this year – the highest rate since 2011 – and during the turbulent 2011-15 period, Viet Nam was among few countries in the world posting positive and high economic growth, averaging 6 per cent per year, the forum heard.
The economy was entering a new growth period with macroeconomic stability, faster growth and low inflation towards sustainable development with GDP growth projected between 6.5 per cent to 7 per cent during 2016-20 period.
Dung said the Government of Viet Nam encouraged investments from foreign investors.
He cited statistics showing that Viet Nam had so far attracted a total US$270 billion in FDI registered capital with more than 19,000 existing projects from 105 countries and territories, $135 billion of which was disbursed.
He stressed that the country was making efforts to complete its market economy, improve legal and administrative frameworks, enhance human resources and develop infrastructure systems, aiming to creating an attractive investment environment.
"Viet Nam is determined to improve its business climate following international criteria to achieve ASEAN-4's level by 2016," the Prime Minister said.
He added the impending signing of new-generation free trade agreements would contribute to improving the country's business environment.
Regarding investments in infrastructure, Dung said Viet Nam considered the modern infrastructure system as a breakthrough in the country's development and the Public-Private Partnership (PPP) practice coupled with the restructuring of public investment would create favourable conditions for both domestic and foreign investors.
The list of projects calling for investments under PPP practice was being updated and would be published soon.
Opportunities for foreign investors also arose from the privatisation of State Owned Enterprises (SOEs), one of the three pillar of Viet Nam's economic restructuring, Dung said. During the past two decades, the number of SOEs has been reduced by 90 per cent. Statistics showed that 350 SOEs were privatised from 2011 to September 2015 and more were expected as the Government was determined to speed up the process.
On the financial market, Dung said it remained of modest scale, however, Viet Nam would introduce new policies and products in line with international practices and standards.
Increasing foreign ownership limits and abolishing caps on the foreign holdings of Government and corporate bonds together with other open regulations was helping attract foreign investors.
During the forum, Tony Shale, Euromoney CEO, Asia, said that Viet Nam had emerged as an attractive market in Asia with an advantageous geological location, impressive economic growth and determination to improve the business climate.
The Minister of Planning and Investment Bui Quang Vinh said improving the business environment and national competitiveness were critical.
If Viet Nam did not renovate itself, the country might lose out to Laos, Cambodia and Myanmar, Vinh said.
Experts at the forum said that they saw advantages of Viet Nam in compared with neighbouring countries in the region, however only long-term vision would promise a successful business climate.
The Viet Nam Global Investment Forum was organised by Euromoney and the Viet Nam's Ministry of Planning and Investment.
The forum gathered hundreds of delegates from around the world to discuss economic growth, FDI outlook, financial sector development, SOE privatisation, the real estate sector, investment in agriculture, financing infrastructure and power development in Viet Nam.