Viet Nam's tourism officials and representatives of tourism companies have discussed measures to loosen procedures to attract more Chinese tourists to Viet Nam.
At a recent workshop held in Ha Noi by the Viet Nam National Administration of Tourism (VNAT), many participants said the double check on Chinese tourists to Viet Nam is unnecessary.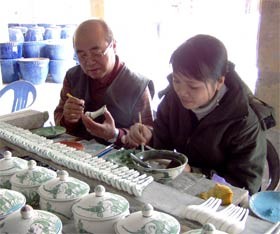 A Chinese tourist (L) learns how to draw on ceramics at a business establishment in Viet Nam's Quang Ninh Province bordering China (Photo: Tuong Thuy)
Participants said immigration procedures at the border gate are enough. Another suggestion was that Viet Nam should reduce the waiting time of five days to issue an immigration permit so that Chinese tourists could have more time in Viet Nam.
The participants also proposed that Chinese visitors with tourism cards should be allowed to fly Vietnam Airlines inside Viet Nam. Another proposal was VNAT should work out punishments against tourism companies breaking a set of rules called 849, issued to attract more visitors from the northern neighboring country.
After the rules were issued, the number of Chinese visiting Viet Nam in 2005 was down 8% from that of 2004. Experts say some of the rules are not or no longer suitable.
Viet Nam welcomed almost one million foreign visitors in the first quarter of this year. Among them were over 142,000 Chinese, higher than other countries or territories, and up 75% on the first quarter of last year.