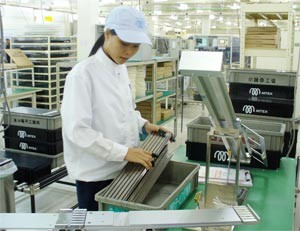 Electronic chips are packaged at the Japanese MTEX Ltd Corp., which has been assembling and exporting semiconductors in Ho Chi Minh City since 2001. (Photo:TK)
The Vietnamese Government will create favorable conditions for Japanese investors in Viet Nam, President Nguyen Minh Triet said yesterday.
Mr. Triet was speaking at a reception for representatives of Japan's International Friendship Exchange Council, led by Mr. Muto Takayoshi, who are visiting Viet Nam to learn more about the country's investment environment.
He said diplomatic relations between Viet Nam and Japan had greatly improved in recent years, especially after Prime Minister Nguyen Tan Dung's visit to Japan and the Viet Nam visit by Japanese Prime Minister Shinzo Abe. These visits, he said, had boosted relations to a strategic level, contributing to the development and prosperity of the region and the world.
President Triet said the Vietnamese Government and people were very interested in the projects by Japanese companies and would do their best to boost relations with Japan to an even higher level for the common benefit of the two nations
He expressed a hope that Japan would continue to invest in Viet Nam's major transportation projects such as the north-south highway and the north-south express train.
He said he believed that, with their advanced technologies and strong economic potential, Japanese investors would contribute to the consolidation of the mutual relationship between Japan and Viet Nam.