Viet Nam is creating a framework to stimulate private investments in the aviation industry, as public-private partnerships for development of this sector has become a trend in the region.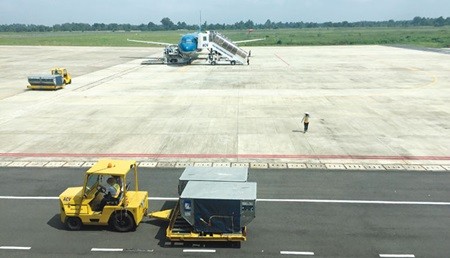 A view of the Buon Ma Thuot International Airport. Viet Nam is creating a framework to stimulate private investment in the aviation industry (Photo: VNS)
Nguyen Duong, the deputy director of the Civil Aviation Authority of Viet Nam's (CAAV's) airport management department, made this announcement at the Southeast Asia Airport Expansion Summit in Ha Noi yesterday.
"I hope that in the very near future, we will see the participation of private and foreign investors in airport development, as well as the aviation industry in Viet Nam," he said, adding, "This is the way things should go."
Duong said the new aviation law, which took effect on July 1, had aimed to promote the roles of private investors.
The booming growth in the aviation market is posing a great demand for better airport infrastructure, requiring greater financing and knowhow from the private sector.
From 2010 to 2014, the domestic aviation sector grew on average 12 per cent per year in terms of passenger traffic, with annual numbers of passengers increasing from 21.07 million to 33.16 million.
In freight, the market posted an average growth rate of 12.67 per cent per year, with annual quantities of cargo rising from some 460,000 tonnes to more than 741,000 tonnes.
Notable growth was also reported during the period at some international airports such as Cam Ranh, which grew at 25.5 per cent per year, Vinh at 34.8 per cent per year, and Phu Quoc at 24.7 per cent per year.
Even Tho Xuan, a small airport in central Thanh Hoa Province, witnessed 70.5 per cent growth per year in the last two years.
Duong said these were challenging Viet Nam's airport system, and the number of airports were to be increased from the present 22 to 26 by 2020.
National flag carrier Vietnam Airlines had changed from a state utility into a joint stock company, and airport businesses would also be privatised "sooner or later", he said.
The CAAV would be no exception, he said, adding that this firm was expected to offer 25 per cent of its equity to the public while retaining a 75 per cent State stake in the future.
The declaration of the ASEAN Single Aviation Market is likely to be signed by December 2015, and is expected to fully liberalise air travel and allow ASEAN airlines to co-operate in the region.
"However, the capacity at congested airports will be a real concern," said Neil Bentley, vice president of aviation in Asia Pacific, at AECOM.
"Major airports in the region are thinking of a 'bigger picture' and either new runways or new airports are being planned for most major cities to meet booming travel demands," he said.
Some airports in the Philippines, Singapore and Hong Kong are tending to promote the public-private partnerships for their future upgrades, he said.
"What the private participants really need is a very sound and reliable legal framework, to make sure that their investments will be secure in the long term," he told Viet Nam News.
"Privatisation is not a case of the government exiting the industry. It is very important that the government understands that it has ongoing roles that need to be properly structured to enable growth and capacity," he said.
Earlier this year, Vietnam Airlines, Vietjet and some private businesses asked to buy the operational rights to a terminal at Noi Bai Airport in Ha Noi. The T&T Group, VinGroup and the Sungroup are reportedly eyeing Phu Quoc Airport in the south.
Bentley said that while Southeast Asia was a leader in terms of globalisation of the aviation market, there were obstacles for a partnership between airlines and airports.
"Airlines are customers of airports. Airlines basically want to minimise the charges, while airports of course want to get a fair return on their assets," he explained.
On-Block Gmbh General Manager Reinhard Zeiler noted that airline returns are inadequate even in good years, with the average net profit per departing passenger being some $2.56.
"Airports continue to enjoy market power over both airlines and their customers, leading to prices that are higher than they should be and service standards that are lower than they should be," he quoted International Air Transport Association official Tony Tyler as saying.