Viet Nam's September trade deficit is expected to plummet to US$500 million, or a fourth of the average monthly figure this year, the General Statistics Office (GSO) reported.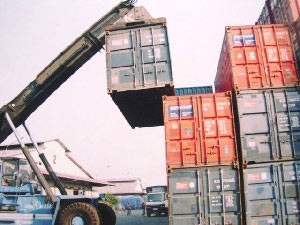 Viet Nam's trade deficit is estimated to plummet in September
The trade deficit for the first nine months will then edge up to $15.8 billion, a year-on-year increase of 86 percent.

Imports in the first three quarters will be $64.4 billion and exports $48.5 billion.

The Government expects the whole-year deficit to be $18.5 to $19.5 billion.
Economists said imports have begun to drop because of measures like raising special consumption tax and limiting import of gold, automobiles, motorbikes, cosmetics, and cell phones.
Falling demand and the volatility in the foreign exchange rate too have played a part.
Major import items this year have included automobiles and auto components, steel, paper, computers, electronic components, machinery and equipment, fertilizers, plastic materials, and milk and milk products.
Exports have jumped to $48.5 billion this year, a rise of 39 percent year-on-year.
The foreign-invested sector accounted for $26.6 billion, or an increase of 35 percent, and the domestic sector achieved exports of $21.9 billion for a 44 percent increase.
The 10 export commodities in the "billion dollar club" -- crude oil, coal, apparel, footwear, computers, rice, coffee, rubber, furniture, and seafood -- continued to do well and made up 58.7 percent of the exports in the reviewed period.