The Ministry of Agriculture and Rural Development (MARD) has drafted a food security plan through 2020 that will put an end to hunger by 2012, and submitted it to the Government for approval.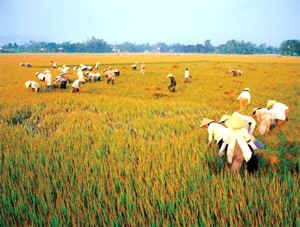 Rice paddies must be kept to ensure the country's food security and put an end to hunger
Vietnam is the world's second largest rice exporting country but two years ago, 6.7 percent of the population lacked food. The ratio was 8.7 percent in rural areas.
Now, around 1 million people living in mountainous areas do not have enough rice and have to make do with maize and cassava.
MARD said the shortage of food is caused by the difference in farming conditions and the poor distribution of food in the country which makes it hard for people in mountainous and remote areas to access it.
The National Food Security Plan suggests earmarking at least 3.5 million hectares of land for growing rice, to ensure rice output of 39-41 million tons per year. The area under rice now is 4.1 million hectares
Another 1.3 million hectares should be devoted to maize, it says.
The head of the ministry's Cultivation Department, Nguyen Tri Ngoc, said: "The most important thing is we have to keep land for growing rice, especially fertile land. To do this, we need to amend the Land Law, restricting local administrations' authority to make decisions related to agricultural land."
Experts warn, however, that a major challenge to Vietnam's food security is the shrinkage of the area under rice.
The country requires 600,000 hectares by 2020 to develop infrastructure, industry, and services and promote urbanization.
A further 400,000-5000,000 hectares is needed for non-agricultural purposes.
Thus, the area under rice will shrink to 3.5 million hectares in 2020, seriously threatening food security.
Responsibilities
The plan says that the responsibilities and rights of agencies at all levels in managing agricultural lands should be clearly spelled out while industrial and urban areas and infrastructure should not be built on farmlands.
MARD has suggested the establishment of a National Food Security Committee headed by a deputy prime minister and with senior officials from related ministries to implement the food security plan.
The plan also focuses on improving nutrition and reducing malnutrition among children under the age of five by 2020.
By 2020 Vietnam's population is expected to rise to 100 million.
Some analysts said the country would need 47 million tons of food in 2010 (3.3 million tons more than in 2007), including 31.1 million tons of rice.
But some others said the demand for rice is reducing since the quality of people's lives has improved.
The Cultivation Department said the demand for rice may decrease but more meat, fish, and milk would be consumed and a large quantity of grains would be needed to feed livestock.
So a portion of the rice paddies should be used to grow vegetables, fruits and grains needed to feed animals, it said.
Mr.Ngoc said: "The biggest issue now is to grow enough rice to both ensure food security and export."