Viet Nam will stop subsidizing petrol prices, at a cost of up to US$625 million per year, as well as some other industrial items like coal and cement, starting next year, said Prime Minister Nguyen Tan Dung yesterday at a financial conference in Ha Noi.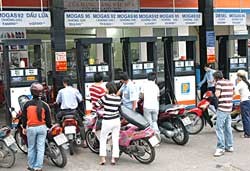 Viet Nam will 'earn' US$625 million a year from not subsidizing petrol prices. Last week it raised petrol prices at the pumps by a record 15%.
Viet Nam has paid around VND10 trillion (US$625 million) per year to prevent oil and petroleum sector losses recently, said PM Dung. Stopping such compensation will save state money for more urgent or welfare expenses.
"Now we use money from selling crude oil to subsidize oil and petroleum prices but crude oil is a national treasure and the Vietnamese people in general must benefit from it, not just the oil sector".
Besides, stopping subsidization would help reduce petrol smuggling, he added.
We have to accept market mechanisms whereby prices are dictated by the supply and demand, the PM acknowledged.
The country will also no longer subsidize the cement and coal industries, then gradually limit and eventually stop compensating for operating losses in electricity industry, Dung added.
According to the General Statistics Office, over the first 10 months of 2007, Viet Nam imported nearly 10.4 million tons of petroleum products worth over US$5.8 billion, up 12.1% and 16% respectively over the same period last year.
Meanwhile, the nation exported over 12.4 million tons of crude oil totaling nearly US$6.6 billion, down 9.9 % and 7.5 % respectively.
On November 22, the government raised retail fuel prices by nearly 15%, the fifth fuel hike this year and the biggest so far in Viet Nam.
the PM also instructed fiscal administrators to review provisions and tax policies for the poor and those affected by natural disasters.
And the administrative sector needs to finalize policies to create more favorable conditions for domestic and foreign investors, he added.
Viet Nam's investment climate faces challenges pertaining to tax and business registration bureaucracies, PM Dung noted. He directed relevant agencies to boldly slash overlapping or superfluous legal documents.
As for ministerial and department expenses, the Prime Minister called for bureaucrats to economize on power and state vehicles. "There are countries that have registered 50% GDP growth but only 2% growth in power consumption. But whenever Viet Nam's GDP grows by 1%, its power use climbs by 2%."
According to the Ministry of Finance, the current state budget is estimated at VND287.9 trillion (nearly US$18 billion) this year, up VND6 trillion, or 2.1%, over initial targets, and an 11.6% year-on-year rise.
Meanwhile, state expenditures are put at VND368.3 trillion ($23 billion), VND10.9 trillion and 3.1% over targets.