U.S. and Vietnamese senior officials on March 19 started their three-day meetings on the bilateral Trade and Investment Framework Agreement (TIFA) to further strengthen the two countries' economic relationship.
Officials from the U.S. Trade Representative's Office, the U.S. Patent and Trade Office, and the U.S Embassy are meeting with their counterparts from the Vietnamese Government in Ha Noi to discuss intellectual property rights, WTO implementation, market access, and other issues of bilateral interest.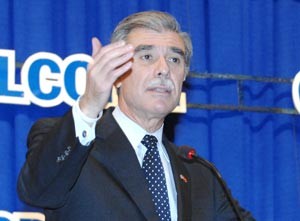 Secretary of Commerce Carlos M. Gutierrez addresses students of the HCMC University of Technology during his Viet Nam visit in November 2007. (Photo: K.V.)
Last December, the two sides sat in the first, ministerial-level TIFA Council meeting in Washington. This week's working-level meetings are part of a joint initiative to intensify the bilateral economic relationship.
In November 2007, U.S. Commerce Secretary Carlos M. Gutierrez visited Viet Nam with 22 American companies focused on expanding bilateral trade ties and boosting U.S. export opportunities. It was the first-ever U.S. cabinet business development mission to Ha Noi and Ho Chi Minh City.
At present, the U.S. is Viet Nam's third largest trade partner and its largest export market. The Asian country is increasingly an investment destination for U.S. businesses and a growing market for U.S. goods. Two-way trade in 2007 was US$12.53 billion, up 29% from 2006.
U.S. exports to Viet Nam increased by 73% to $1.9 billion from $1.1 billion in 2006. With the improved economic climate, major U.S. businesses continue to seek investment opportunities in Viet Nam, and the Bilateral Trade Agreement, Vietnamese membership in the WTO, and TIFA offer various avenues to cooperate further on trade issues that remain a shared priority for the two nations.