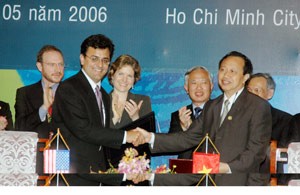 The signing ceremony is held at the Unification Palace in Ho Chi Minh City on 31 May, 2006 (Photo: Viet Dung)
The pact between the Viet Nam and the US is set to boost Vietnamese exports to the world's largest economy and allows the US companies greater access to Southeast Asia's fastest growing economy, which expanded 8.4% in 2005.
It also paves the way for Viet Nam's bid to join the 149-nation WTO before Ha Noi hosts an Asia Pacific Economic Cooperation (APEC) summit in November, due to bring leaders including US President George W. Bush.
"This truly is an historic step in the relationship between our two countries," said Deputy US Trade Representative Karan Bhatia after signing the pact with Deputy Trade Minister Luong Van Tu.
"It marks the passing of another milestone on the road to full normalization between our two countries."
The United States was the last of 28 countries to sign a trade deal with Vietnam, which hopes to conclude multilateral WTO entry talks in July.
Under the trade deal, the benefits of which will apply to all WTO members once Viet Nam joins, the Asian country must eliminate industrial subsidies and cut tariffs and other trade barriers on a range of goods and services.
Import duties will be scrapped on IT goods and aircraft and reduced on auto parts, and service providers including banks, insurers and telecom firms will get greater access to the country of 83 million people, said the USTR office.
Under the US deal, Viet Nam must reduce tariffs to 15 percent or less for 94% of American industrial products and three quarters of agricultural export goods, the USTR office said.
"This is a huge victory and a huge success," said Virginia Foote, president of the US-Viet Nam Trade Council. "It will attract additional investment and trade with Viet Nam."
Washington and Ha Noi's first post-war trade pact came into effect in 2001 and has boosted annual two-way trade to almost 8 billion dollars, with the balance heavily in Viet Nam's favour.
The deal signed Wednesday "opens a vibrant and growing market for American agricultural goods, a range of services and manufactured products," said Bhatia.
Once Viet Nam joins the WTO, its goods will have access to the markets of other WTO members on a non-discriminatory basis, meaning tariffs on textiles and garments and other barriers will be removed.
Viet Nam faces one more challenge -- a US Congress vote to grant it permanent normal trade relations (PNTR) status, which would give it most-favored nation market access not subject to periodic reviews.
US businesses are lobbying for the deal in Congress where some lawmakers have raised concerns over Viet Nam's human rights record.
"We believe there is strong bipartisan support for the PNTR and we will continue to work closely with both parties in Congress in the hopes of completing that process as soon as possible," said Bhatia.
Foote said she hoped the bill would be introduced next week and added: "I'm optimistic we'll be able to get it done by August."
Deputy US Trade Representatives Susan Schwab, Viet Nam's Deputy Prime Minister Vu Khoan and Trade Minister Truong Dinh Tuyen witnessed the signing in the Reunification Palace, the seat of the former US-backed southern regime.
"Viet Nam's integration into the global economy, through new bilateral arrangements with the United States and WTO membership, will mean that it will not be left behind other regional countries," said Vietnam expert Carl Thayer of the Australian Defence Force Academy.
"If properly implemented, Viet Nam, the world's 14th most populous country, could emerge as a major player not only in Southeast Asia but East Asia as well."