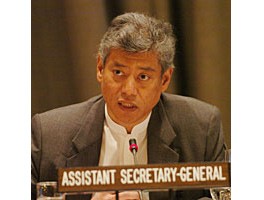 Jomo Kwame Sundaram, Assistant of UN Secretary-General on Economic Development
Assistant of UN Secretary-General on Economic Development Jomo Kwame Sundaram, addressed a concluding meeting on Viet Nam's 20-year renovation.
The integration of Viet Nam, the once nearly closed economy, into the world economy has been proceeded at a rapid pace in the past 20 years.
He confirmed that it was the big change contributing to the fact that Viet Nam has evolved from a nation adversely ruined by long wars into one of the dynamic developing countries. The export values of US$32 billion in 2005, up from US$2 billion in 1990, is the impressive achievement of Viet Nam's reform program, launched in 1986.
The reforms, known locally as "doi moi" or renovations, have improved the living standard of local people. For example, a simple meal in Viet Nam will cost around US$0.5, but it would be up to US$10 in the US. The example shows that the average income in the US must be 20 times higher than that of Viet Nam. Therefore, the earnings of Vietnamese are at the average level in comparison with other countries in the world.
He added that Viet Nam is due to join the WTO in the coming time with lots of challenges waiting ahead.
Viet Nam is a small economy; so, gaining the foothold in the world's large markets is the vital step to obtain high export earnings. Accession to WTO will direct Viet Nam towards the entry requirement of other big markets accounting for 97 percent of global trade.
In addition, Viet Nam's entry to WTO will create a fierce competition between domestic-made and foreign products, which will put intense pressure on local state-owned enterprises of non-traditional export industry to have an immediate technological innovation.
Mr. Sundaram said that FDI would provide a stimulus to the economic renovation but it is not sufficient. Viet Nam must plan long-term strategy to boost the nation's technological advance, improving educational quality and scientific research. Moreover, the government should pursue creative policies to help local enterprises integrate into the the global production chain, he said.