Viet Nam will soon succeed in its industrialization process, said the president of the U.S-ASEAN Business Council, Matt Daley, in a recent interview with Radio Free Asia.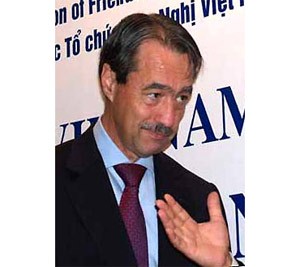 President of the U.S-ASEAN Business Council Matt Daley

Talking about the prospects of Viet Nam-U.S. economic cooperation after the U.S visit of Vietnamese President Nguyen Minh Triet, he stressed that Viet Nam is an emerging and important market for exporters, importers and service providers, and also a significant investment location for U.S and foreign firms.

Regarding investment, U.S firms should step up efforts in Viet Nam because they are more slow-paced than the others; the U.S is currently on the list of the 10 largest investors in Viet Nam, but it could be on the top five within a decade, he said.

Daley is optimistic because Viet Nam has great potential, he explained. He stressed that the Vietnamese people are quite talented and the government is determined to pursue economic reforms and expand its markets to make Viet Nam an industrialized country.

Though it is not easy and takes time to reach its goals, Viet Nam will succeed. The country's fast-growing economy is currently giving Vietnamese people a wealthier life, Daley said.