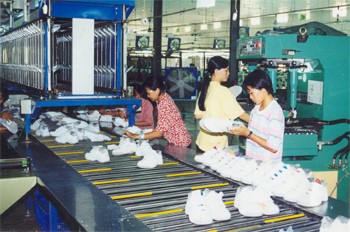 Viet Nam's sport shoe manufacture is among China's focuses for trading coopertion. (photo T.K)
The Vietnamese Trade Ministry recently announced that Viet Nam and China expect to raise their two-way trade turnover to US$15 billion by 2010
.
The two countries' bilateral trade volume is expected to exceed US$10 billion in 2006, 4 years earlier than the planned date set by the two governments, said the Ministry.
Both countries' trade ministries agreed to build a joint website in Vietnamese and Chinese in a bid to facilitate the mutual exchange of information and further promote economic cooperation between the two countries' businesses, particularly small-and-medium-size enterprises.
The website is to be launched on Thursday, November 16, on the occasion of Chinese Communist Party Secretary General and President Hu Jintao's official visit to Viet Nam.