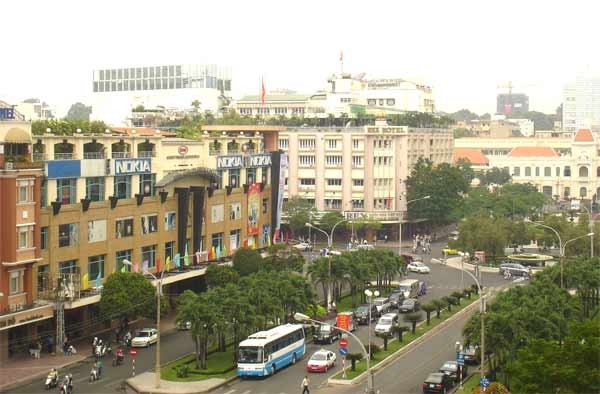 Stable social system is one of the main factors contributing to the success of Viet Nam's economy in recent year. (Photo: VH)
Foreign investors have more positive evaluation of Viet Nam's economy.
The magazine "Le Point" has recently published an article "Viet Nam - Paradise for foreign investors".
It said that there is fierce competition between six foreign venture capital management companies in the emerging market of Viet Nam, among which is Mekong Capital Ltd., capitalized at nearly US$900 million.
Reportedly, the funds increased their 2005 profits by 40 percent, up from 20 percent of the previous year. VinaCapital, founded last January, has won lots of contracts with large deposits worth over US$320 million.
A recent survey of the Japan External Trade Organization (Jetro) revealed that Viet Nam is ranked as the premier option for investors. The survey, conducted in January and February 2006, of five Japanese industries, found that many factories of Japan, one of the world's leading industrialized countries, are likely to be moved to Viet Nam. The five industries surveyed included transportation engine part manufacturing, electric and electronic component manufacturing, metal manufacturing, chemicals, electric and electronic equipment manufacturing.
There are subjective and objective basis for such optimistic evaluation.
The objective factor is that Viet Nam is going to join WTO. However, subjectively, Viet Nam appeals to foreign investors with its own attractiveness, which are the socio-political security, capability in labor and exchange rate management (higher than the regional average), high and stable economic growth rates in recent years. All these promise new business opportunities in Viet Nam.
JETRO also pointed out some existing limitation that would negatively affect the investment environment. Viet Nam's infrastructure is one of the worst in the region, just alittle better than India's. Alternative industries are insufficient and shaky. Plus, Viet Nam lacks high-level technicians and engineers, etc.
However, both foreign investors and domestic enterprises have grounds for fruitful growth.
The 10th National Party Congress' determination to get Viet Nam out of the underdeveloped status and a younger generation of leaders could live up to our expectation.