At a recent meeting, most of Viet Nam's foreign partners have been very optimistic about Viet Nam's major changes in the economy in the next five years. One impetus to Viet Nam's development, according to them, is the prospect of Viet Nam's entry to the World Trade Organization (WTO) together with the Vietnamese government's extensive renovation policies.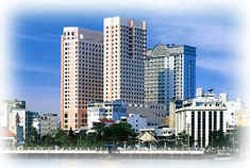 Viet Nam is targeted to become a middle-income country in the next five years.
Answering the question "Where will Viet Nam be in the next five years", World Bank (WB)'s Country Director for Viet Nam Klaus Rohland said the Vietnamese government has targeted to make Viet Nam a middle-income country by 2010. If this target is achieved, Viet Nam will complete the transfer to a market economy.
Also, he forecast that the private economic sector will attract many dynamic and capable businesspeople. It means that Viet Nam's economic growth rate will be the same as that of other countries.
Meanwhile, Denmark Ambassador to Viet Nam Peter Lyshott said that Vietnamese people's lives will be improved remarkably in the next five years. From the starting line of WTO, Viet Nam will continue to strongly attract foreign and domestic investments, guaranteeing a high annual growth rate, creating jobs and reducing poverty.
However, Mr. Peter Lyshott noted that investment quality and negative impacts on the environment due to rapid economic growth require the Vietnamese government to come up with urgent solutions in order to minimize risks.
Mr. Jesper Morch, United Nations Resident Coordinator, also shared the viewpoint with Mr. Klaus Rohland.
Viet Nam has to keep going on the renovation path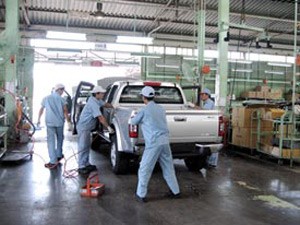 Viet Nam's industrial sector is developing, contributing to the country's economic development. (Photo: T.C.)
The WB's Country Director said that the target of becoming a middle-income country is not achieved by only reaching a high economic growth rate in a short time. "It is essential to have proper policies to guarantee a fast and sustainable development for a long term," emphasized Mr. Klaus Rohland.
Major areas needing further reform are: public financial management system, including reforms of taxation and state property management; modernization of judicial and law systems to support effectively transactions and business activities; improvement of qualities of financial service and infrastructure.
Minister counselor of Japanese Embassy to Vietnam Daisuke Matsunaga said the community of sponsors, including Japan, is discussing reforms in the frame of the Poverty Reduction Support Credit (PRSC) with the Vietnamese government.
"Japan cares very much about reforms of finance, state-owned companies and regional development in Viet Nam," said he.
He added that in order to attract more foreign direct investment capital, Viet Nam needs to adjust related regulations and improve administrative mechanism.
Viet Nam's five-year plan by 2010 targets to increase GDP 2.1 times higher than that of 2000, with an average growth rate of 7.5-8% or over 8%. Per capita GDP in 2010 will be between US$1,050 and 1,100, based on the current prices. Total export turnover will increase by 16%/year, and reach US$770-780 per capita by 2010, a double increase from 2005. Total social investment will be VND2,200 thousand billion (based on prices in 2005), about US$140 billion, covering 40% of GDP, among which domestic capital will be 65% and foreign one 35%.