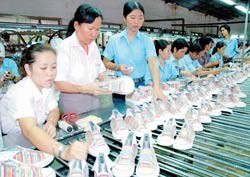 Footware is one of the main export products
The Vietnamese Ministry of Trade recently announced its planned export development in 2006-2010, according to which, the volume will increase by 17.5% per year, accounting for the total turnover of nearly US$272 million.
Agricultural, forestry products and seafood industries will earn an export turnover of US$7.34 billion in 2006 and US$10 billion in 2010 with an average increase ratio of only 7.7% per year. This low ratio is due to many difficulties of these industries in expanding their farming scales.
Thus, the industries' turnover will account for 19.1% of the total exports in 2006, and the ratio will be down to 13.7% in 2010.
Meanwhile, raw materials and minerals exports will see a gradual decrease of 3% as the Vietnamese Government plans to limit exporting crude oil and coal.
Accordingly, crude oil and coal exports will see a sharp decrease from 21% in 2006 to 9.6% in 2010.
On the contrary, industrial products, fine arts and handicrafts will increase to 45.9% and 54.1% in 2006 and 2010 respectively, marking the highest annual ratio of around 22%. According to the Ministry of Trade, export turnover of these fields in 2006-2010 will reach US$137 billion.