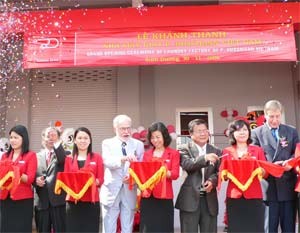 Chairman Peter K. Dussmann (white) and local authorities cut the ribbon at the clinic laundry opening ceremony. (Photo:TK)
The private multi-service provider Dussmann Group from Germany this morning inaugurated its industrial laundry for hospital's clothes, the first-ever of its kind in Viet Nam, in the southern province of Binh Duong.
The six million-euro clinic laundry will serve as many as fourteen local hospitals in Ho Chi Minh city, among which is Cho Ray Hospital with a capacity of nearly 20 tons of clothes a day.
Mr. Peter K.Dussmann, the owner and also chairman of the supervisory board of the Dussmann Group, said during the opening ceremony, "After setting up a central kitchen for Cho Ray hospital, also the first one in Viet Nam, we decided to carry out our next step to further the Vietnamese health care's development by opening this industrial clinic laundry and we believe that Vietnamese patients as well as staffs of local hospitals will be very pleased with the quality of the service."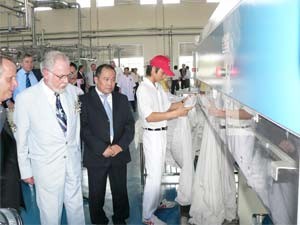 Mr. Peter Dussmann (L) and Managing Director of P.Dussmann Viet Nam Doan Quoc Khanh tour the industrial laundry. (Photo:TK)
Attending at the ceremony were also Mr. Wolfgang Clementformer, the German Federal Minister of Trade and Industry cum member of the supervisory board of the Dussmann Group, Consulate General of Germany in Ho Chi Minh City Dr. Hein-Peter Seidel, and many representatives of hospitals in Viet Nam.
According to a representative of the Dussmann Group' subsidiary in Viet Nam P.Dussmann Viet Nam Co. Ltd., the company wants to expand its investment portfolio in Viet Nam by launching the industrial laundry service and it expects a two-digit sales increase in the next years.
In the future, the industrial laundry will also offer sterile laundry and hotel laundry, he said.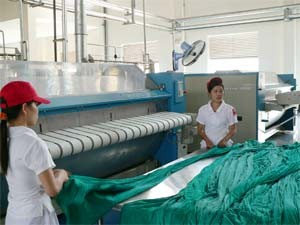 Bedding clothes of Cho Ray Hospital are ironed and folded by large-size ironing machine Compact Series 1000. (Photo:TK)
Apart from the laundry service, the P.Dussmann Viet Nam Co. Ltd. also provides industrial catering with nearly 55,000 meals prepared for local hospitals and companies each day.
Currently, around 7,000 patients and staffs of Cho Ray Hospital in Ho Chi Minh City are catered by the company.
Ms. Michaela Mehls, the spokeswoman of the Dussmann Group, said the company's central kitchen in Cho Ray Hospital was established in 1998 and so far has been considered as an excellent referential object in Asia for modern service quality by many delegations of hospital managers during their working visits to the hospital.
With more than 52,000 employees in 27 countries, the German Dussmann Group offers all facility management services from one source under the brand name of Dussmann Service such as technical services, catering, security and reception services, cleaning services, commercial management, and energy management.
Related link: