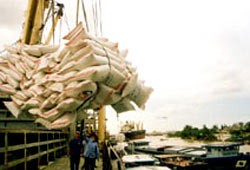 Rice is loaded for export in a Mekong Delta province.
The Philippines National Food Authority (NFA) will import an additional 100,000 tons of rice from Viet Nam to meet its demand for food in this year's pre-harvest months, announced the Ministry of Agriculture and Rural Development on June 30.
Among Vietnamese rice exporters, the Southern Food Corporation is the largest which supplied 400,000 tons out of the 425,000 tons of rice exported to the Philippines since the beginning of this year. Last year, the Philippines imported 1.8 million tons of rice, mainly from Viet Nam.

Meanwhile, by the end of June, 2006, Vietnamese rice exporters have signed contracts to ship roughly 200,000 tons of rice to the Middle East and South America markets.
Thus, Viet Nam has signed contracts to export a total of 3 million tons of rice to international markets from the beginning of 2006.
Viet Nam's rice exports in the first six months of 2006 accounted for 65% of the national export target of roughly 4.5 million tons for the whole year.
According to the Ministry of Agriculture and Rural Development, although Viet Nam's rice export price inched up by US$10 a ton to reach roughly US$290, it was still US$20-30 per ton lower than the price of Thailand's, or China's rice.
Possible reduction of these two countries' rice export volume and slight increase in the world's rice price are two major reasons for a rising demand of rice in the international market in the coming time.