Deputy PM Vu Khoan was pleased to talk to the press about the results of bilateral negotiations with the United States on Viet Nam's entry into the World Trade Organization (WTO) and the competitive pressure accompanying the membership.
Reporter: What were the difficulties in the negotiations with the US?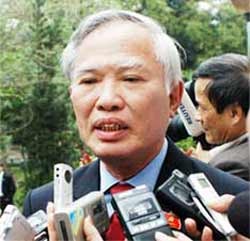 Deputy PM Vu Khoan.
Deputy PM Vu Khoan:
WTO negotiations are different to other bilateral ones. In the WTO negotiation, one party has demands and the other meets demands. There is no reciprocal exchange like in the Viet Nam - America Bilateral Trade Agreement (BTA). Viet Nam and the US have negotiated within the WTO framework. However, there was room for haggling and a different mechanism for developing countries.
It's a matter haggling or an art of haggling. On some issues, we could protect our conditions. But we also had to give in to the US on some other issues.
In my opinion, our achievements in the talks with the US were rather equal and a "give and take". The two sides called it "win - win solution".
What sectors will face most challenges when Viet Nam enters WTO?

Every sector has its difficulties, but the service sector will have most, as it is new to us. Regarding goods, it depends on categories of goods. For agricultural products, we are strong in coffee, fish and pepper. The US is stronger than us in the engineering field. If we want to be clear about challenges, we have to analyze each product. General talks won't solve any problems.
What is the next step after the talks with the US?
For the US side, Viet Nam has to finalize documents (within this week). Then, there is the signing. For other countries, we will open new round of talks, probably late June or early July. Afterwards, Viet Nam will have to finish WTO accession reports and summit to the Working Board on Vietnam's WTO accession for a meeting.
What strategies and plans will Viet Nam have to prepare for local enterprises?
All the recent renovation of our economic mechanisms have been made for the WTO accession. For instance, in the three meetings of the National Assembly, we have amended and drafted lots of bills based on WTO standards.