Vietnam's auto industry, which has ploddingly developed for the last many years, will face tariff abolishment on products imported from ASEAN nations from January 1 next year.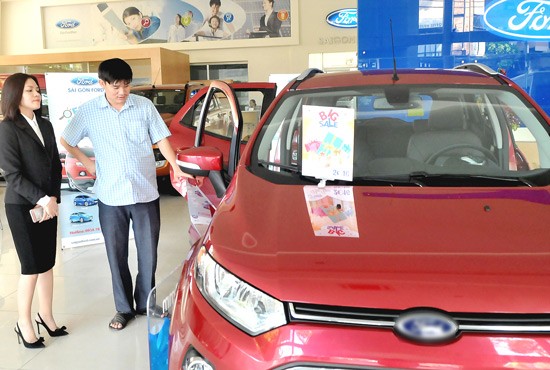 The man choosing cars at an auto shop in HCMC (Photo: SGGP)
Admit the approaching tax abolishment, Toyota Vietnam has considered stop production in Vietnam. Japanese Mazda group has announced choosing Thailand to manufacture engines and assemble automobiles to supply the Southeast Asian market. South Korean Huyndai Group has stepped up investment in Malaysia.

Commenting on Vietnam's auto industry, Mr. Chris Humphrey, managing director of EU-ASEAN Business Alliance, said that the Vietnamese Government had issued many advantageous policies for the auto industry for the last many years.

Of them is the policy assisting businesses to increase localization rate by connecting with large automakers in the world. However the localization rate has approximated 10-30 percent so far.

Once the tax removal comes true next year, the auto industry will not have many opportunities to develop and compete with Southeast Asian countries who have gone before Vietnam by decades in this field.

Thailand now can produce 2.3 million automobiles a year while the number is only 400,000 in Vietnam. Policymakers, businesses and citizens have concerned that Vietnam will be unable to compete with Thailand in both quality and prices when the tariff rate slides to 0 percent in 2018.

At that time, component import for assembly will be more expensive than CBU (complete built-up unit) import from Thailand, Indonesia and Malaysia. Meantime, Thai manufacturers have been ambitious to exploit the potential market of Vietnam where population tops 90 million people in high demand of auto shopping.

Experts said that Vietnam's auto industry has been lagging behind other nations and uncompetitive because of high manufacturing costs. Businesses have imported auto parts and components for local manual instead of automatic assembly which requires high quantity and hi technology.

For instance, local firms are now able to assemble 10,000 Innova automobiles at the highest capacity. This number is insufficient for manufacturing automation to increase productivity, reduce costs and lower selling prices.

If this situation remains unchanged, auto makers and traders will change into import CBU products for sale instead of assembling domestically.

Assistance policies
Deputy Minister of Industry and Trade Do Thang Hai said that many policies had been issued to assist the auto industry to deal with integration difficulties and challenges but they needed be changed to suit current context.

Prime Minister Nguyen Xuan Phuc has recently visited Huyndai Thanh Cong Group, announcing advantageous policies for the industry.

According to him, joint venture between local private businesses and large groups in the world is a sound step. He appreciated some provinces such as Quang Nam and Ninh Binh for their proactive steps and high determination to develop the industry, contributing to promote the Government's auto development strategy from a failure after many times of changes.

Vietnam is not ambitious to produce all 800 auto parts and accessories now. The right direction for local firms is to coordinate with large groups in the world to make most important parts including engines for exports instead of import only and becoming a garbage dump of old automobiles in the world.

PM Phuc has required the Ministry of Industry and Trade to coordinate with a Government working group to urgently work with auto businesses, synthesize reports and propose policies to the PM for auto and support industry development.

Experts suggested that Vietnam should not develop by width in many fields but quickly transfer into manufacturing, determine and focus on segments in strengths.
Huyndai Thanh Cong is one of few auto firms who have been able to maintain localization rate in Vietnam by connecting with South Korea Huyndai Group. It is ranked second in Vietnam's auto market share with the output of over 36,000 products last year.

Despite the nearing tax abolishment on automobiles of less than nine seaters, the group has still sustained the joint venture with Huyndai at the capital contribution ratio of 50:50 to build a complex, which will be able to manufacture 160,000 cars, 18,000 coaches and buses and 30,000 trucks a year with the localization rate of 40 percent.