Vietnam coffee industry need more processing plants and good qualify seeds to boost the export turnover, analysts said.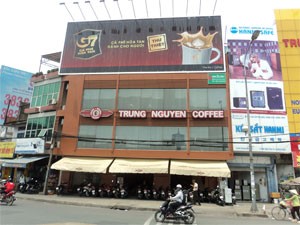 Trung Nguyen is one of Vietnam's four biggest instant coffee producers (Photo:Minh Tri)
Experts said although Vietnam is one of the world's biggest coffee exporters, the country's coffee business still has to depend on the market move in London and New York due to a lack of cooperation between local exporters.
Most Vietnam's coffee exporters opted for future or option contracts when trading on the London Exchange, which are considered as the most advanced way enabling exporters to manage their price risk, said Do Ha Nam, vice chairman of the Vietnam Coffee and Cocoa Association.
However, the trading methods are suitable only for experienced traders, who have to constantly update information about the global market move, Nam said.
"Vietnam's exported prices were always driven by foreign traders. Many local exporters are suffering heavy losses from option contracts," said Van Thanh Huy, general director of Daklak Investment Export - Import Joint Stock Corporation.
Analysts said a shortage of coffee processing plants with large outputs saw local exporters could not take advantage of the profuse material sources at home.
The export turnover of instant coffee of the country remains low as local businesses have not considered instant coffee as one of their core businesses. There are four biggest instant coffee producers including Vinacafe, Trung Nguyen, Nestlé and Olam with the total output of around 10,000 tons per year only.
"Vietnam is lacking of a large amount of coffee processing plants. Although we are the world's second biggest coffee exporters, we mainly exported raw coffee. We still do not have any brand name which is popular on the global market," said Diep Kinh Tan, deputy minister of agriculture and rural development.
Economist Ly Truong Chinh noticed that Vietnam exported mainly Robusta coffee, which is half as cheap of Arabica.
"We strongly invest in seeds and farming methods, but our coffee remains low-quality with low outputs. The way local exporters market their products in foreign market does not look professional," Chinh said.
"The annual sales of processing coffee with popular brand name of Nestlé and Starbucks are tens of times higher than ours, which are mainly from raw coffee," he said.
The Vietnam Coffee and Cocoa Association, also known as Vicofa, recommended that authorities of provinces with coffee farming areas should encourage farmers to opt for seeds with high yields.
The association also proposed to set up standards of planting, harvesting, drying and processing coffee in order to boost the quality.
Vietnam has the total coffee farming area of around 500,000 hectares, mainly in highland provinces of Dak Lak, Lam Dong, Gia Lai and Dak Nong with the annual yield of over 1 million tons.
Of the area, the farming area of Arabica coffee is around 35,000 hectares, which is mainly in the northern provinces.
"Local exporters are excited on the increasing international price, with exported price amounting US$1,900 per ton. The cost of raw coffees bought from local farmers is around VND36-37 million ($1,850) per tons. The exported amount of coffee is expected to reach more than 1 million tons worth over $2 billion," said Luong Van Tu, chairman of Vicofa.