After six months of inflation-curbing measures, the government unveiled a five-point plan to prevent economic recession and announced a US$1 billion package to stimulate investment and consumer demand.
Sai Gon Giai Phong spoke to Tran Duc Nguyen, an independent researcher at the Institute of Development Studies (IDS), the former head of the government's Department of Research and consultant expert to the Prime Minister from 1993 to 2006, about the government's plans.
Reporter: Sir, the consumer price index (CPI) has fallen to negative numbers in recent months, does that prove the government's anti-inflation measures have been a success?
Mr Nguyen: The government found the right solutions to bring positive changes. However, the CPI has fallen into negative territory due to many factors, not just government's measures.
The prices of three key commodities - building materials and housing, means of transport and freight rates and food - have reduced significantly, bringing inflation down.
The tight monetary policy reduced investment and led to the decrease in the price of building materials and housing. Transport prices have fallen as a result of global oil prices tumbling. And the food price reduction is unwanted because it has brought disadvantages for farmers.
While prices of those commodities have fallen, the other commodity prices have increased slightly.
We should examine the reasons for the slower inflation instead just noting the trend.
Q: So, what do you see the government's anti-inflation measures lacking?
A: According to the prime minister's report at the meeting of the National Assembly this month, the nation should focus on more effective investment, higher labor productivity, lower production costs and more competitive products. However, these things are not easy to do.
For example, farm produce is a strong point of Vietnam. We have focused on intensive cultivation and using the power of our workforce to get high crop productivity compared with other countries in the region.
However, we have not developed a chain to link the phases of producing - processing, stockpiling, consuming and exporting - to increase our competitiveness.
Vietnam has exported rice for 20 years, however farmers still suffer when the price cycle means there are high prices but a shortage of rice and low prices when they have bumper crops.
Vietnam should find out solutions for these urgent problems by examining good domestic models and foreign experience.
Q: Are the solutions for preventing economic recession, stimulating investment and consumer demand given by the government strong enough?
A: Many enterprises have reduced production and new investment and exports have declined in recent months, leading to a reduction of jobs and purchasing power.
For these reasons, we have to firstly stimulate investment demand as the government suggests. But how we direct investment is the most important thing.
The government should stipulate investment is directed to effective economic fields.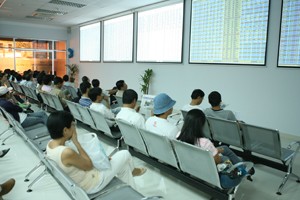 The Ho Chi Minh Stock Exchange fell to its lowest level - a sign of economic recession.
Besides, public investment projects have to be supervised closely. We should have a supervising mechanism to prevent delays and cost overruns and to ensure the quality of the work.
The government should not only reduce taxes but also support economic sectors, especially small and medium enterprises and household businesses.
Moreover, salaries should be increased to stimulate consumer demand and assist the domestic market.
The National Assembly has decided to increase the minimum wage in May 2009.
According to a meeting between the National Financial Supervisory Commission (NFSC) and independent experts, while waiting for the increase, the government should give low-paid laborers an allowance.
Q: How do you expect the global economic recession will affect Vietnam?
A: The world financial crisis and economic recession have affected Vietnam considerably already, especially in fields of exports and investment. It is very difficult to estimate the impact of the world situation, so government policies have to be flexible.