The cabinet has said that the economy has seen remarkable recovery since the beginning of the year, with GDP growth rate reaching 4.56 percent in the year to date.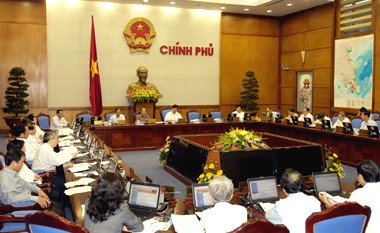 The Cabinet, at its monthly meeting on September 30 and October 1, said Vietnam has done exceptionally well while most other countries struggled to cope with the economic downturn
Speaking to the media at the end of a regular two-day Government meeting on October 1, Nguyen Xuan Phuc, head of the Government Office and a minister, said while other economies have not recovered or just overcome the financial crisis, Vietnam has shown signs of a dramatic change.
 
Industrial production was up 13.8 percent in September over the same month last year and investment, especially by the public sector, has soared, he said.
 
Gross capital formation in the past nine months was VND483.2 trillion (US$26.8 billion), a year-on-year increase of 14.4 percent, including $7.2 billion in foreign capital.
 
Thanks to the impact of the economic growth and stability, the stock market has gradually bounced back, with the VN-Index rising to 580 points at the September, he said. It had plunged to a low of 235.5 on 24 February.
 
Prices remained steady in first nine months. In September the consumer price index rose by 0.62 percent.
 
Exports of rice, pepper, coffee, cashew, crude oil, precious stones, and coal rose sharply. The trade deficit was $6.54 billion, equivalent to 15.67 percent of export.
 
Mr. Phuc said Prime Minister Nguyen Tan Dung had urged Government and local agencies to work to achieve a GDP growth rate of 6.5 percent in the fourth quarter to achieve 5 percent growth for the whole year.
 
On the downside, the economy has faced difficulties, including a sharp drop in exports, mainly due to falling global prices.
The economic slowdown also caused difficulties in mobilizing investment, particularly FDI, generating jobs, and exporting labor.
"We must maximize the exploitation of our domestic strengths and potentials," the PM said. "[We] have to accelerate the rate of disbursement of funds for projects, especially key national projects," he said.
 
He also called for relief and rehabilitation efforts in the aftermath of epidemics and natural disasters, especially the typhoon that hit the central region at the end of September.
 
Referring to the $8 billion stimulus package, the cabinet said it has worked, helping the country stave off a recession.
 
The PM instructed the State Bank of Vietnam to work with ministries on the 2010 stimulus package and submit to the Government for consideration by mid-November.
 
The government targets GDP growth of 6.5 percent for 2010 and containing the budget deficit at 5 percent.