Vietnam recorded a trade surplus of US$290 million in the first two months of the year. This is the first trade surplus Vietnam had for the past 17 years.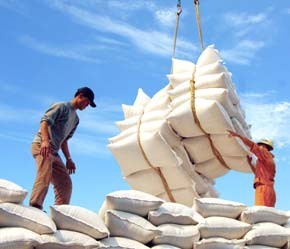 Vietnam's rice exports estimated to have more than doubled in the first two months of the year
This was reported at a regular monthly cabinet meeting on March 2.
The country's imports in January-February fell to $7.73 billion, a year-on-year decrease of 43.1 percent while exports dropped by 5.1 percent to $8.02 billion.
 
In February alone, the country exported $4.3 billion worth of commodities.
In the first two months of 2009, Vietnam spent $1.77 billion on imported machinery, down 24 per cent year-on-year; $753 million on oil based products; down 60 per cent; and $412 million on steel, down by 74.2 per cent.
The country spent only $161 million on automobile imports, down by 60.6 per cent.
It earned $958 million from exports of crude oil, down by 42.4 per cent.
However, textile exports were up by 0.7 per cent, $1.27 billion, and rice exports were estimated to have more than doubled at $399 million.
The Cabinet agreed that the trade surplus needs to be analyzed thoroughly by the government and economists as it happened in the context of the global recession.
Some economists said Vietnam saw the trade surplus in the global recession period due to the sharp drop in imports.
 
Industrial production in the first two months saw the slowest growth rate in years,  due to the impact of the global financial crisis when output increased by only 2.5 percent, to VND106.1 trillion ($6 billion).
 
Among the country's 34 key industrial products, 21 products suffered reduced production, some of which reported a decrease of 50-60 percent.
 
Air conditioners topped the list with a decrease of over 64 percent. Glass and automobile tires followed with a reduction of 53.4 and 50.5 percent, respectively.
 
A series of industrial products, including steel, gas, motorbikes, chemical paints, footwear and televisions fell by roughly 10 percent.
 
However, thanks to the exploitation of crude oil, the country saw an increase of 2.5 percent in industrial production. Over the last two months the country has exploited nearly 3 million tons crude oil, up 14.2 percent over the same period last year.
 
In the domestic market, the total retail value of commodities and services surged just 3.8 percent, equivalent to one quarter of the same period last year.
 
The country licensed 67 foreign direct investment (FDI) projects with a total registered capital of $1.5 billion, up 31 percent over the same period last year.
 
The increasing number of FDI projects proved that foreign investors are still interested in Vietnam's economic potential, no matter how bad the global economy.
 
Unemployment surged sharply in industrial parks and vocational villages in the past two months. Nine industrial villages and 2,166 businesses went bankrupt.
 
The country's tourism industry also saw a dramatic decrease in the past two months, with only 689,400 foreign visitors, down 10.2 percent over the same period last year.