Vietnam's economic growth will recover to 6 percent this year, the International Monetary Fund (IMF) has forecast.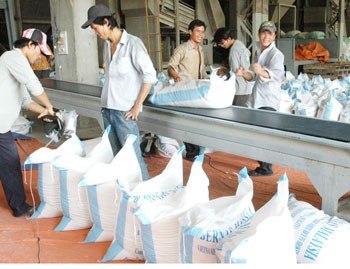 Workers package rice for export at a rice processing factory of the Southern Food Comapny in Ho Chi Minh City.
With the current rising momentum, the country may see economic growth increase to 8 percent in the next five years, Anoop Singh, IMF's director of the Asia and Pacific Department, said at a conference on "Post-Crisis Growth and Poverty Reduction in Developing Asia" held by the State Bank of Vietnam and the IMF on March 22 in Hanoi.
State Bank of Vietnam Governor Nguyen Van Giau emphasized that policymakers in developing Asian countries need to focus on ensuring that conditions are in place for sustainable and equitable growth. To help achieve this, he encouraged greater economic cooperation among countries, and asked for the continued support of developed partners.
In his remarks, IMF First Deputy Managing Director John Lipsky said that Asia is leading the way to stronger global growth. He noted, however, that while Asia is one of the most dynamic regions in the world, large income disparities exist, and poverty remains a significant problem. A great challenge is to ensure that all people in Asia benefit from the region's vibrant economic performance.
The conference attracted more than 140 senior delegates from 16 Asian countries and Africa, and representatives of bilateral and multilateral international organizations.