The economic downturn along with many operating difficulties has greatly reduced purchasing power, resulting in a decline in the country's retail sector in the last four consecutive years, according to the 2012 A.T. Kearney's Global Retail Development Index (GRDI).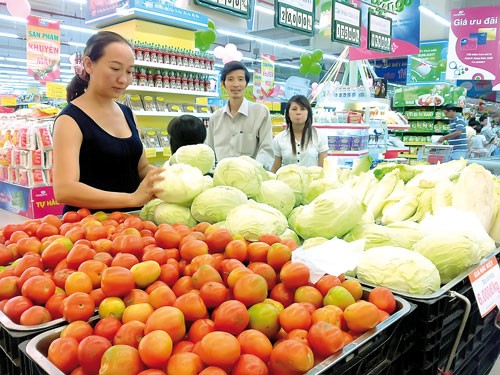 Customers choosing vegetables at Co.opmart, which is one of successful supermarkets in the country (Photo: SGGP)
Due to several factors, Vietnam has lost its shine as an attractive location for retail investment since 2009. The country used to be among the top 30 emerging retail markets in 2008.
At that time, the country was valued by international economic experts as a strong economy having abundant FDI capital and a young population who favored fast spending.
However, in just one year, the country fell to 6th place in 2009, 14th   in 2010, 23rd in 2011, and 32nd in 2012.
According to A.T. Kearney's annual GRDI report, the cause of this slide is the macro-economic policies that are unpredictable and which affect purchasing power; and obstacles and barriers faced by investors when applying for business licences.
Moreover, Vietnam's retail sector has poor planning, resulting in ineffective investments and shortage of resources, manpower and a proper distribution network.
While Thailand and Indonesia have seen strong consumer growth this year, Vietnam saw a downslide. Experts say it will take two to three years for Vietnam's retail sector to recover like in 2008 and an additional 10-15 years to keep pace with other countries in Asia.
One of the disadvantages is costly rental space and difficulty in regaining consumer confidence. Most people have tightened spending and prefer bargain sales, for which enterprises have to continuously launch promotional programs, offer discounts and give gifts to keep the consumer coming back to stores.
Companies are facing stiff competition and only enterprises with financial potential can best satisfy customer needs and make substantial profits, as in the case of Big C, Metro, Co.opMart, Vien Thong A and Nguyen Kim supermarkets.
Taking into account the last six years, this is the first year to see such a sharp decline in purchasing power of electronic items, despite a year-end reduction sale of 10-50 percent. However, food and essential commodity businesses are maintaining optimism, though markets are showing no positive signs.
However, enterprises should not be discouraged and consider Vietnam's GDP growth at 5 percent and the young population accounting for 50 percent in the country. Sales of consumer appliances in Vietnam registered a 15 percent rise in 2013 and 100 percent in smart phones, said a recent report from GFK Group, one of the world's leading market research companies.
However, enterprises have to improve their financial and   management ability and services. In addition to stimulating purchasing power, enterprises must cooperate with each other to cut costs in rentals and transportation fees.
Major brands such as Sony, Samsung, and Panasonic have coordinated with retailers to launch promotional programs that are tempting and can lure consumers.