The gross domestic product (GDP) grew at an estimated 6.23 percent in 2008, the lowest level in nearly a decade, the General Statistics Office said December 31.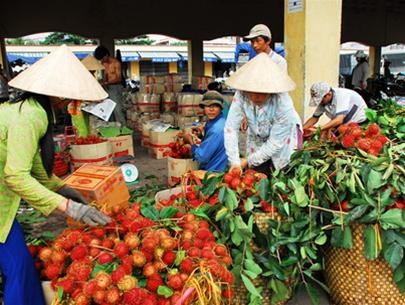 Farmers collect fruits for export in Tien Giang Province (Photo: Hoang Thanh Van)
Prime Mister Nguyen Tan Dung said it does not meet the target set by the National Assembly but is still relatively high in the context of the global economic slowdown.
The house recently revised the target down to 7 percent from the original 8.5 percent, which was also the 2007 growth rate. The economy expanded by an average of 7 percent a year the past decade.
Mr. Dung said an important task for his government this year would be to ensure social welfare.

Bui Ba Cuong of the GSO said per capita income in 2008 was an estimated US$1,024 but it may not be enough to drag Vietnam off the list of low-income countries.

Dr Nguyen Minh Phong of the Hanoi Socio-Economics Development Institute, asked to comment about Vietnam's GDP per capita exceeding $1,000 for the first time last year, said the most important issues now are growth quality and living standards, not the GDP figure.
The government had said earlier this month that it would unveil an economic stimulus package worth nearly $6 billion to maintain growth.