Vietnam desires foreign investors including the U.S. to pay attention to investment opportunities from State-own enterprise equitization and the stock market, said Minister of Finance Dinh Tien Dung on July 1.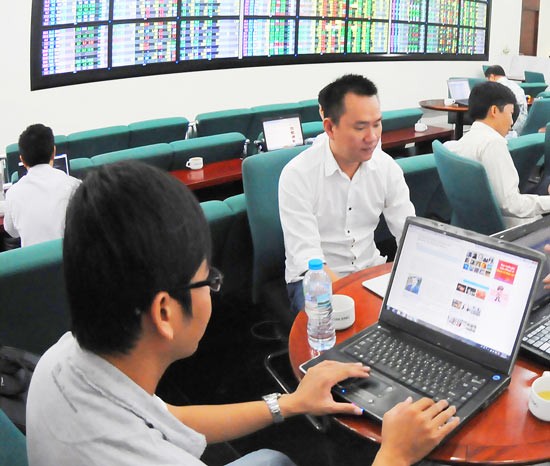 Investors at a stock exchange in HCMC (Photo: SGGP)
He made the statement at an investment promotion to Vietnam conference in New York which was attended by over 100 international investors.
Twenty years after the two countries normalized diplomatic relations, the U.S. has been among Vietnam's largest trade and investment partners, said Mr. Dung. 
U.S. businesses have invested in 729 projects in Vietnam with a total registered capital of US$11 billion, ranked seventh out of 101 nations and territories investing in the country.
The capital market has 995 American investors comprising 430 individuals and 565 organizations.
Minister Dung said that Vietnam would continue equalizing 289 state own enterprises and divesting from 300 businesses this year.
The total value of equitized enterprises is estimated to approximate US$25 billion with the number of shares offered for sale of about US$3.75 billion.
Chairman of the State Security Commission of Vietnam Vu Bang said that Vietnam had issued a revised decree detailing the Stock Law three days ahead of the conference in New York.
The new decree extends the ownership ratio of foreign investors in the stock market to 100 percent except those in conditional business sectors.
It also shortens stock settlement period from T+3 to T+2 (trade date plus two days when securities transactions must be settled), reduces registration procedure in the stock exchange to foreign investors.
The decree will create motivations for the stock and capital market development in the next five years, Mr. Bang said.