Deputy Prime Minister and Foreign Minister Pham Binh Minh and Indonesian Foreign Minister Retno Marsudi co-chaired the second foreign ministerial-level meeting of the countries' Bilateral Cooperation Committee in Jakarta on June 24-25, highlighting the sound and efficient development of their relations across the board.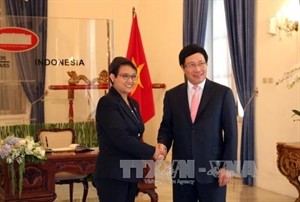 Deputy PM and Foreign Minister Pham Binh Minh (R) and Indonesian Foreign Minister Retno Marsudi (Photo: VNA
Political relations between Vietnam and Indonesia, strategic partners since June 2013, have been growing with high mutual trust, they said, noting regular high-ranking visits and contacts between Parties, Governments, States, parliaments and peoples.
The two nations have seen flourishing economic ties with trade reaching 5.4 billion USD in 2014, soaring by 17.4 percent from 2012 when the Bilateral Cooperation Committee was set up and achieving the turnover target one year ahead of schedule.
The 2010 defence cooperation agreement has been implemented effectively and collaboration in other realms like energy, aviation, culture, education-training and tourism is also strongly growing, helping promote their strategic partnership, the officials said.
At the meeting, they agreed to continue senior delegation exchanges, particularly as the countries celebrate the 60 th anniversary of diplomatic ties this year.
Besides further optimising the Bilateral Cooperation Committee's efficiency, they will convene the seventh meeting of the joint committee on economics, trade, science and technology in 2015 and establish new cooperation mechanisms and agreements in other spheres.
Both sides shared the view that to realise the 10 billion USD trade goal by 2018, Vietnam and Indonesia need to create optimal conditions for their businesses in investing in and trading coal, minerals, consumer goods and farm produce while increasing commercial consultations.
Indonesia pledged to actively consider Vietnam's suggestion to import the latter's rice, purple onions, and electronics and consumer products.
The two countries will organise the third meeting of the joint technical committee on fisheries in 2015, the participants said.
Also at the meeting, Indonesia spoke highly of the countries' coordination at regional and international forums and affirmed it will continue working with Vietnam and other ASEAN member nations to successfully build the ASEAN Community this year.
The country renewed its support for Vietnam's candidacy as a member of the United Nations Economic and Social Council for the 2016-2018 term, adding that it will coordinate closely with Vietnam in organising the Asia-Pacific Economic Cooperation (APEC) forum in 2017.
With regard to complicated developments in the East Sea, the two sides underscored the importance of sustaining peace, stability, and maritime and aviation security and safety in the waters; settling disputes peacefully through negotiations between relevant parties on the basis of international law, especially the 1982 UN Convention on the Law of the Sea and ASEAN's Six-Point Principles on the East Sea; fully complying with the Declaration on the Conduct of Parties in the East Sea; and exerting efforts to expeditiously set up a code of conduct in the East Sea.
Concluding the second meeting, the two sides signed the meeting's minutes and concurred that the third meeting will be hosted by Vietnam in 2017