Vietnam remains the favorite investment destination for South Korean firms doing business in the country, according to a survey done by the Korea Chamber of Commerce and Industry.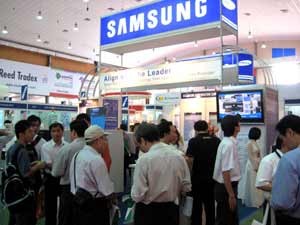 (Filed photo) A Samsung booth at an electronics exhibition in Vietnam. Samsung is a major Korean investor in Vietnam.
They were asked to rate 10 countries and territories.
Out of 250 Korean businesses polled, 50.3 percent chose Vietnam for their medium- and long-term investment.
It was well above Cambodia, which got 16.8 percent of the votes, and the eight other countries and territories that failed to poll even 10 percent.
The survey found that despite the Vietnamese economy facing difficulties because of the global economic recession, the Korean businesses are optimistic it will recover within a year or two.
Over 48 percent said they would expand their operations in Vietnam this year, while 45.2 percent said they would maintain their current scale.
They said they prefer Vietnam because it has an advantage over other countries in terms of labor, market access, incentives for foreign businesses, raw materials, and others.