Japan and Vietnam signed an economic partnership pact Thursday in Tokyo with a promise to cut tariffs on some 92 percent of goods and services traded between the two nations within a decade.
Japanese Foreign Minister Hirofumi Nakasone and Vietnam's Minister for Industry and Trade, Vu Huy Hoang, signed the deal which still needs final approval by the Japanese parliament.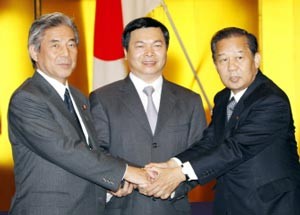 Vietnamese Industry and Trade Minister Vu Huy Hoang (C) join hands with Japanese Foreign Minister Hirofumi Nakasone (L) and Japanese Economy and Trade Minister Toshihiro Nikai (R) as they exchange documents on the economic partnership agreement in Tokyo (Photo: AFP)
"The agreement will strengthen the mutually beneficial economic collaboration between our two countries by facilitating freer flows of goods, services and investments," the two ministers said in a joint statement.
"We are convinced that such economic cooperation will contribute to the economic development of our two countries, promote well-being of our peoples, and expand opportunities and benefits for our business sectors," it said.
The agreement allows for freer bilateral trade than a wider trade agreement between Japan and the whole of the Association of Southeast Asian Nations, which includes Vietnam, Japanese officials said.
Under the new agreement, Vietnam will get duty-free access to the Japanese market for shrimp, durian and okra, among other farm and marine products.
Japan will be able to send duty-free its auto parts, steel and electronic goods for assembly in Vietnam, particularly parts that require high skill and have to be brought from Japan, Japanese officials said.
The same day, Minister Hoang and Japanese Minister of Economy and Trade Toshihiro Nikai inked a memorandum of understanding on cooperation in the supporting industry.
Vietnam and Japan started negotiations on the agreement in January 2007 and came to a successful conclusion in October this year after nine rounds of talks. The signing of the economic partnership pact took place at a time when the two nations are celebrating the 35th anniversary of their diplomatic ties.
Japan, the world's second largest economy, has been seeking a growing number of bilateral trade deals amid the collapse of global liberalization talks.
In the first 10 months of this year, Vietnam-Japan trade value reached US$14.4 billion, which is estimated to exceed $16 billion by the year end, much higher than the target of $15 billion set for 2010.