While export of many farm produce continues facing with difficulties this year, cashew industry has posted an increase in export output and turnover maintaining Vietnam's position of the world's top cashew exporter for the tenth year in a row.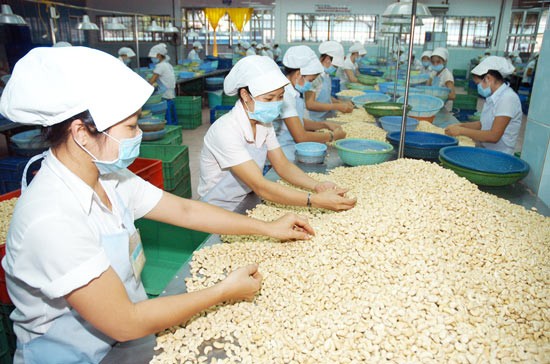 Cashew nut processing at a plant in the southern province of Binh Phuoc (Photo: SGGP)
That was revealed by the Vietnam Cashew Association (Vinacas) at the 7th Vietnam International Cashew Conference in Ho Chi Minh City on November 22-24, attracting 65 foreign companies from 30 nations.
 
According to Vinacas, this year cashew export turnover will reach US$2.5 billion including US$2.3 billion from cashew nut, the highest ever, and the rest amount from cashew oil and processed products.
 
The industry has continued holding 50 percent of global cashew nut trade value equivalent to US$5 billion a year.
 
Mr. Babatola Faseru, deputy chairman of the African Cashew Alliance, said that the event a 'gold' meeting place of global cashew businesses because Vietnam is the largest raw cashew importer of Africa and top processed cashew exporter.
 
It is also a machine and equipment manufacturer to mechanize cashew nut processing industry which African nations want to learn about, he added.
 
Vietnam's cashew industry has improved technologies to slash 70-80 percent labor force, increase processing capacity by 1.5 times and reduce production cost by 30-40 percent, reported Mr. Pham Van Cong, Vinacas deputy chairman.
 
In related news, the General Statistics Office reported a year on year rise of 8.3 percent in export turnover for the last 11 months hitting US$148.7 billion.
 
The highest hike was from phone and components, garment, computers and electronic accessories, and footwear items.
 
Import turnover reached US$152.5 billion, up 13.7 percent. The most imported items were equipment and components for local assembly of electronic products, computers and phones; and materials in garment and textile and footwear industries.
 
In the last 11 months, Vietnam suffered a trade deficit of US$3.8 billion.