Vietnam's World Trade Organization (WTO) membership has brought basic changes in the country's legal framework, economic and commercial policies and institutions and management mode. However the country has missed many opportunities and failed to meet expectations from the integration.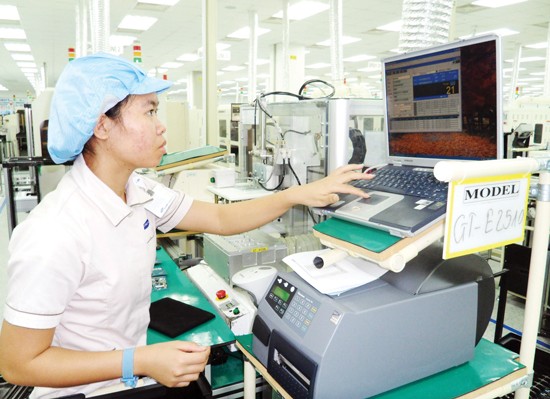 A worker at Samsung Vietnam (Photo: SGGP)
Gross domestic product (GDP) growth rate reached 7 percent a year during the phase of 2006-2010 and 5.88 percent in the next five years, high in the world but still low compared to expectations in Vietnam during the integration phase.
Agriculture has been negatively affected. Average growth rate in this field was 3.4 percent per year in the phase of 2007-2011 and 3.1 percent during the next five year phase. The rate continued dropping to 2.21 percent in 2015, lower compared to 4 percent during 2001-2006 when Vietnam was not a member of WTO.
Export - import structure has showed problems. Key export fields include those using natural resources, agriculture and labor intensive processing industries. Trade deficit has been high and strongly increased post WTO membership.
The notable point in export is a strong contribution by foreign direct investment (FDI) sector to GDP, which has been on the rise since 2007.
According to Government reports, export value by this sector averaged US$56 billion a year during 2007-2014, accounting for 61 percent of the country's total. It was $13.48 billion in the phase of 2001-2006 accounting for 54 percent. Samsung Vietnam has been a major contributor to Vietnam's trade surplus for recent years.
Some ministries, local and central agencies and business communities have not been fully aware of and inappropriately paid attention to international integration. The effectiveness of law enforcement has not been high and economic polices have been asynchronous.
Vietnam was ranked 68th out of 148 nations in global competitiveness index in 2014-2015, higher compared to grade 75 out of 144 countries in 2012-2013 but lower than 2011-2012 and 2010-2011, when it was ranked 65th and 59th in 144 nations respectively.
The grade was 80 a year after Vietnam attending WTO. The index's down trend shows that changes in Vietnam's national competitiveness have failed to meet increasing requirements from international economic integration.
WTO director general Roberto Azevedo said that Vietnam has well taken advantage of many opportunities but economic institution reform must be considered to be necessary. It should be a driving force for the country's development in the upcoming time. Integration has put pressure on Vietnam to reform, he said.
He urged the Government to speed up institutional reform, improve policy implementation, create competitive and transparent environment to help businesses develop.
Deputy Minister of Industry and Trade Tran Quoc Khanh said that businesses have complained about institution and business environment however they should recognize that there have basic changes which are results of WTO membership.
For instance, enterprises no longer get license and quota to import cars and motorbikes as they used to before 2006. The government's collection of businesses' opinions before releasing regulations is natural now not before 2007.