Foreign direct investment (FDI) capital to Vietnam's real estate market has continued increasing recently with high-value deals of many giants from South Korea, Japan and Singapore.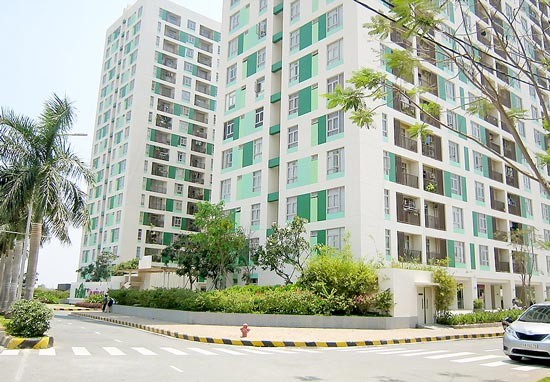 A partly foreign invested property project in District 2, HCMC (Photo: SGGP)
The Foreign Investment Agency under the Ministry of Planning and Investment reported as of July 20, the country has licensed 1,068 new projects with the registered capital of US$6.92 billion, up 1 percent over the same period in 2014.
Of these, real estate was ranked second with 15 new and seven supplementary capital projects at a total fund of US$1.69 billion, accounting for 19.3 percent FDI capital.
Experts said that the real estate market had experienced long-lasting difficulties but been still attractive to foreign investors, who have sped up investment via many forms.
The most outstanding deal recently was Japanese Creed Group's contract to invest US$200 million in An Gia Investment. Of the fund, US$20 million will be spent on An Gia shares and US$180 million will be for housing projects to supply Japanese quality apartments in Ho Chi Minh City.
Director General of An Gia Investment Nguyen Ba Sang said that they were expected to market about 10,000 high class apartments in the city's central districts by 2020.
The company has implemented four projects worth VND3 trillion (US$138 million) to provide nearly 2,000 apartments and been under negotiations to buy ten parcels of land in districts 2, 4, 7 and Tan Binh with investment capital approximating US$1 billion. 
The contract with the Creed Group will provide the company with a steady financial source for its projects, he said.
Previously, the Japanese Group had poured US$100 million into a project in Vo Van Kiet Boulevard of 577 Investment Joint Stock Company.
Besides, VinaCapital Vietnam Opportunity Fund Ltd has invested US$15 million as part of a US$47 million syndicated investment into convertible preferred shares of Novaland Group Corporation.
Foreign ownership room at Khang Dien House Trading Joint Stock Company (49 percent) has been full with the largest investors namely Vinacapital, Dragon Capital, Mutual Fund Elite, Vietnam Holding and SAM.
The real estate market had been advantageous in some big cities of Vietnam. From macro view, the Government was going to conclude Trans-Pacific Partnership negotiations which would open big opportunities for the country's economy to attract international investors, said Mr. Toshihiko Muneyoshi, chairman of the Creed Group.
Vietnam's real estate market has other advantages from the policy to permit foreigners' house ownership in the country and young population who are mainly living in urban areas with limited housing fund.
Statistics from real estate exchanges show that the number of foreign customers has significantly increased since July this year.
Deputy Chairman of Novaland Bui Cao Nhat Quan said that their exchange's successful transactions reached 300 apartments monthly. Of them, five percent has foreign factor, meaning husband or wife are foreigners, and 10 percent are oversea Vietnamese.
Most foreign customers have paid attention to high-class and high-quality projects in center areas, good legal status and investors' prestige, according to Commercial Real Estate Services Company (CBRE).
 
Chairman of Ho Chi Minh City Real Estate Association Le Hoang Chau said that some regulations of the revised Housing Law which permit foreign individuals and organizations to own houses in Vietnam should be shortened or streamlined to promote the policy's effectiveness. Decrees and circulars should be clear to facilitate house trading.